Chris Coleman plans Craig Bellamy Wales talks
Last updated on .From the section Football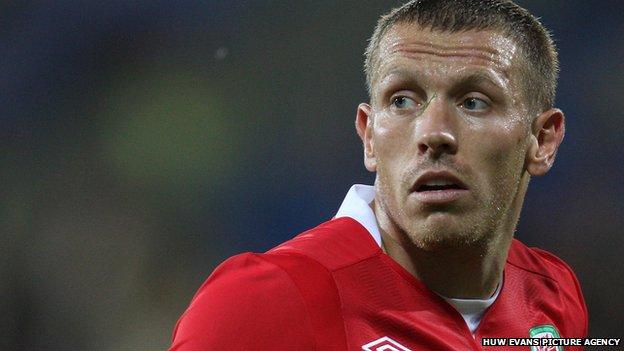 Chris Coleman has revealed he will meet Craig Bellamy next week in an effort to convince the Liverpool striker to prolong his Wales career.
Speed died in November after leading a resurgence in the national team and he has been succeeded as boss by Coleman.
"I don't want him to retire as he still has a lot to offer," said Coleman.
"I spoke to Craig last week and hopefully I will see him one day next week.
"He had an injury to his knee and he has to look after that and we have to respect that.
"But he is still very fit and very good at what he does so we want him to be part of what we're trying to continue to build on what Gary Speed put in place.
"I've got to try and convince him to stay and keep playing international football as it is very important that we keep our best players."
Bellamy was close friends with former Wales and Newcastle United team-mate Speed and he admitted that "it's going to be difficult for me to play because of the impact of what happened".
The Cardiff-born player is in blistering form and his goal in Liverpool's win at Wolverhampton Wanderers on Tuesday was his sixth goal in his last nine games.
Bellamy is fifth in Wales' all-time leading goal-scorer list, having scored 19 goals in 67 international games since his debut against Jamaica in March 1998.
New manager Coleman has had initial talks with Bellamy about him extending his international career to the end of the 2014 World Cup qualifying campaign.
Coleman said after taking over as manager: "We need Craig Bellamy, not just because of his ability but also because of his mentality.
"He can be demanding and difficult but also he wants things done right and sometimes that pushes people in the right direction, so I hope he stays."
Wales begin their on 7 September.