Sone Aluko convinced Danny Uchechi on Dons move
Last updated on .From the section Football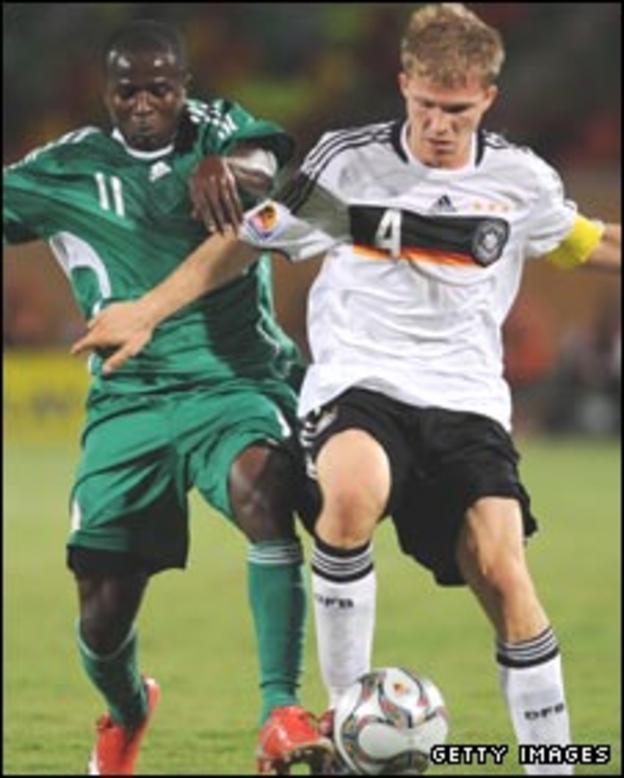 New Aberdeen striker Daniel Uchechi was sold on a move to Pittodrie by former Dons winger Sone Aluko.
Aluko, who joined Rangers as a free agent in November, helped convince his fellow Nigerian to agree a six-month deal with Craig Brown's side.
"When he spoke to me last summer, he said good things," said Uchechi.
"We've been friends for quite a while and he said good stuff about the club. So, I can say my decision was influenced by his opinion."
Uchechi, 22, has agreed a deal at Pittodrie until the end of the season with a further two-year option after spells with Charlton Athletic and West Ham.
Following loan deals at Leicester City and Sheffield Wednesday, he left Upton Park for FC Dender in Lagos.
The Nigeria under-23 played down the tag of the 'new Sone Aluko' and insisted he would try to bring something different to the club.
"We're not the same players - he's left footed, I'm right-footed," said Uchechi.
"We can be similar in certain ways, but I think he's a different sort of player and we have different approaches to the game.
"Saying I'm the new Sone Aluko is a good thing, but I think we bring different things to the game.
"Sone only has praise for Aberdeen. Aberdeen helped him improve as a player and help him get to where he is."
"My number one target will be to play well, to help in terms of bringing as much as I can to the table.
"I just want to help win as many games as possible and get up the table as much as I can."