Zimbabwe exclude 80 players for alleged match-fixing
By Steve Vickers
BBC Sport, Harare
Last updated on .From the section Football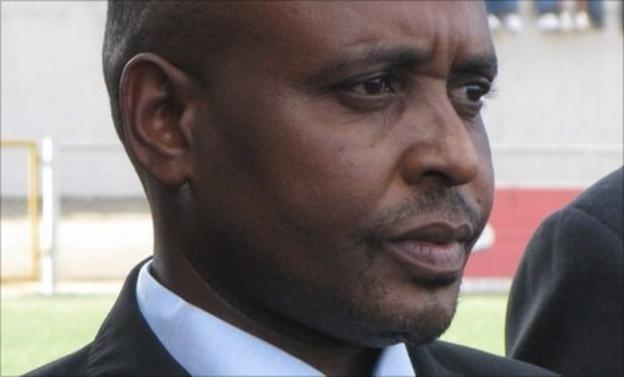 The Zimbabwe Football Association (Zifa) has excluded 80 players from national team selection following allegations of match-fixing.
The players are still allowed to play for their clubs, and they will become eligible to represent the national team if cleared of the charges.
Players told an initial Zifa inquiry that they were paid to lose matches on tours of Asia between 2007 and 2009.
More than half of the current national team squad are among those accused.
They include Captain Method Mwanjali and Sudan-based star Edward Sadomba.
Warriors coach Norman Mapeza and his assistant Joey Antipas were also implicated, but have not yet been suspended by Zifa.
This means that a squad consisting mostly of fringe players is likely to be used when the Warriors begin their campaign to qualify for the 2013 Africa Cup of Nations at the end of the month, away to Burundi.
"We have taken the position that whoever is going to be called up for any national assignment should not be among those implicated in match-fixing," said Zifa Chief Executive Jonathan Mashingaidze on national radio.
"We did this given the lifeless performances in the 2012 [Nations Cup] campaign, and the aim is to get the players to own up and to share their experiences.
"So long as we want to qualify for major tournaments, we want players who pride themselves to play for Zimbabwe and not players who play to lose for money - such kind of players have no place in the national team."
Mashingaidze also revealed that Zifa believes that there was match-fixing around the Nations Cup qualifier against Cape Verde in Harare in October 2010.
Zimbabwe played out a lifeless 0-0 draw that day and the dropped points cost them dearly as they went on to finish third in the group.
"I can confirm that the [alleged match-fixing] cartel was involved, there were wads of notes availed to certain players ahead of the match, and the performance says it all," he said.
The match-fixing investigations began two years ago, and an independent disciplinary committee is expected to finish conducting hearings with players and officials next month.