Nyantakyi hails Africa's new 'giants'
By Farayi Mungazi
BBC Sport, Franceville
Last updated on .From the section Football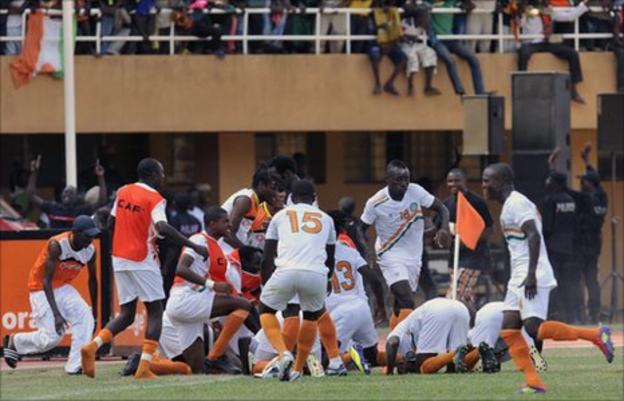 Ghana FA chairman Kwesi Nyantakyi says Egypt, Cameroon and Nigeria cannot be called African football heavyweights at the moment.
All three countries failed to qualify for the ongoing Africa Cup of Nations in Gabon and Equatorial Guinea.
The Pharaohs, Super Eagles and Indomitable Lions have a dozen Nations Cup titles between them.
"These three countries may have been heavyweights in the past but they're not on current form," says Nyantakyi.
The absence of the former Nations Cup-winning sides has dominated numerous conversations among football fans since the tournament kicked off on 21 January.
But Nyantakyi said the three nations have done nothing recently to justify their 'heavyweight' tag.
"The countries that qualified were better than those who didn't qualify," Nyantakyi told BBC Sport in Franceville, where he is overseeing Group D matters.
"These three countries may have been heavyweights in the past but if you look at current form, they're not.
"The heavyweights are those in the competition and we must accord the recognition for that.
"The absence of these so-called heavyweights, in my opinion, has not affected the competition in any way," said the Confederation of African Football executive committee member.
Nyantakyi said instead of moaning the absence of the three teams, people should applaud the performances of debutants Niger and Equatorial Guinea as well as Zambia's lively Chipolopolo.
"What Niger and the others have done here bears testimony to the fact that they're better than Egypt, Cameroon and Nigeria at present."
Co-hosts Equatorial Guinea have reached the quarter-finals against expectations, while Niger have impressed despite losing twice.
Sudan have also put themselves on the African football map once again after reaching the Nations Cup knock-out stages for the first time since 1970.