'Life beyond Nikica Jelavic' - Rangers boss Ally McCoist
Last updated on .From the section Football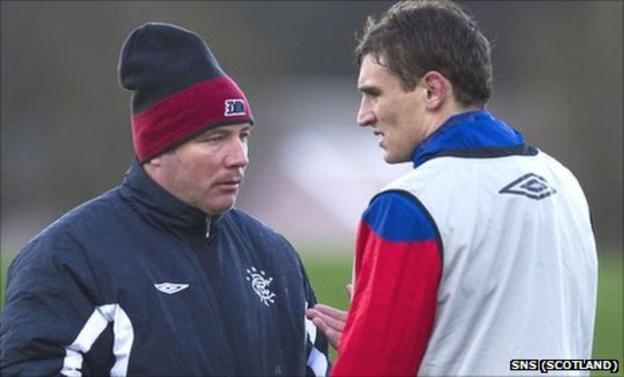 Rangers' ability to score will be damaged, should top striker Nikica Jelavic leave, but the club can still prosper according to boss Ally McCoist.
The Croatia forward missed Rangers' 4-0 win over Hibernian due to illness but McCoist was bullish about his team's prospects if the player is sold.
He said: "There's not just life beyond Nikica, there's life beyond us all.
"There are bigger players who have left this club and the club always goes on. The club is the most important thing."
The win at Ibrox was achieved through two goals by Steven Davis and one apiece from David Healy and Sone Aluko.
It moves Rangers to within a point of Celtic at the summit of the Scottish Premier League, with Neil Lennon's side in Scottish League Cup semi-final action on Sunday against Falkirk.
Hibs' James McPake was sent off on his debut after earning second yellow card for a foul on Maurice Edu, a decision that upset his manager Pat Fenlon.
In his post-match comments, McCoist stressed his admiration for the Ibrox club's top goalscorer, the subject of a failed bid by West Ham, but he also was adamant that other players can provide the goals to keep Rangers in the title chase.
"Nikica, if he went, would be a big loss. He's a fantastic player and he has been a great talent here," said the manager.
"But, as you saw today, we scored some really good goals. Nikica also didn't play against Motherwell and equally we did very well. That's just two examples.
"I'd also like to tell you I wouldn't like to lose him. Of course I wouldn't because he's a good player.
"But I understand the economics of our club and I understand the economics of football.
"Sometimes they dictate and determine what happens rather than other things."
McCoist was quoted on the Rangers website on Friday discussing the Polish striker Pawel Brozek and Hamdi Salihi.
He had said: "These are players that we're aware of and in an ideal world we might be able to get them to the club but there's nothing for me to tell you at the moment."
But on Saturday Brozek was being linked with a move to Celtic instead.
"It's a disappointment but I would use the word 'target' a little bit carefully," said McCoist after the Hibs match.
"He's a player we were looking at and - I won't lie to you - we were sort of interested in but there were no specific bids made and I didn't have any contact with the player or the agent.
"He's absolutely well within his rights to do what he thinks is best for himself. There's no doubt about that.
"It would take a lot more than that to really disappoint me to be honest."
A move now also appears unlikely for Honduran midfielder Jorge Claros, following his trial spell.
McCoist added: "Where we are at the moment with Claros is we are not in a position to offer him a contract yet.
"We will sit down again tomorrow and Monday to discuss the situation. He has done well and he has looked comfortable.
"Being 100% honest, we are slightly better covered in that position than we are in one or two positions.
"That's not to say that I wouldn't like him on board or I wouldn't take him.
"I do like him and wouldn't mind getting him on board but I think we do need to prioritise other areas of the park."