Manchester United manager Sir Alex Ferguson defends David de Gea
Last updated on .From the section Football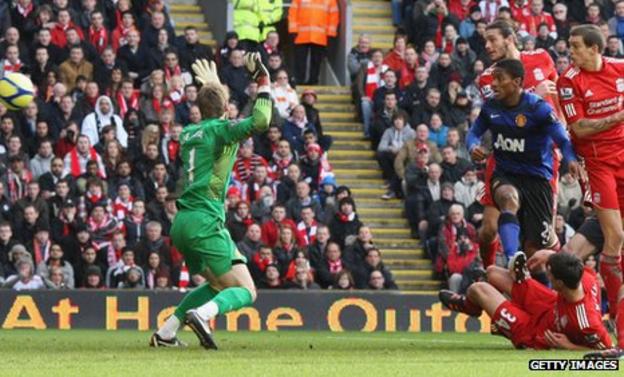 Manchester United manager Sir Alex Ferguson backed goalkeeper David de Gea despite the 2-1 FA Cup fourth-round defeat by Liverpool at Anfield.
De Gea, recalled in place of Anders Lindegaard for the fourth-round tie, hesitated to claim Steven Gerrard's first-half corner, allowing Daniel Agger to head into an unguarded net.
United's Ji Sung-Park levelled before Dirk Kuyt struck a last-gasp winner.
"Our own players created a problem for the first goal," said Ferguson.
"They didn't give him [De Gea] enough room to deal with it."
Meanwhile, United striker Michael Owen also defended the under-fire keeper.
Owen used his Twitter account to claim that it was 'totally wrong' to blame De Gea and backed the Spaniard to be a 'top keeper'.
"Don't agree with all this negativity towards De Gea," wrote Owen. "Admittedly he has made a couple of mistakes this season, but listening to some people you would think he had a nightmare.
"I'm not having either goal was his fault. The problem is, once you get labelled, mud sticks and now any tiny mistake is magnified.
"Other keepers make similar mistakes and nothing gets said.
"In my opinion two bad goals to give away but to blame everything on the keeper is totally wrong. The lad will be a top keeper, he is only young. Harsh to blame him for everything."
Ferguson believes 11-time winners United did not deserve to be dumped out of the competition after dominating possession.
But the Scot admitted both goals were avoidable, with Kuyt allowed to run free before smashing Andy Carroll's flick-on past De Gea in the 88th minute.
"The winning goal was a big blow - we didn't deserve that," said Ferguson.
"It was a really good performance but in the context of what an FA Cup tie is like that can happen.
"Just one breakaway and you can lose the game. It's a sudden death situation.
"But I'm pleased with the players - they performed very well, dominated the game and didn't deserve to be beaten.
"We were the better team but that's the FA Cup, I'm afraid."
Liverpool counterpart Kenny Dalglish reflected on a "fantastic" week for his club after victory against United secured a double cup success over Manchester opposition.
The Reds reached their first Wembley final since 1996 by beating Manchester City in the Carling Cup semi-final on Wednesday.
But the week started badly for Dalglish and his players after a 3-1 loss at Premier League rivals Bolton.
He said: "It's been a fantastic week for the players. Everyone realises the history of the football club and the players want to be part of it.
"It was a magnificent effort from them. After the game on Wednesday, to come back on Saturday morning and win showed tremendous commitment and great heart.
"United might have been the better side and had more possession but, other than them hitting the woodwork once, [goalkeeper] Pepe [Reina] didn't have that much to do."
He added: "The week started badly for us at Bolton, but it's a fantastic credit to the players and how much pride they take in the club that they've got themselves back on track.
"They've come out on the right side of two huge cup games."