Manchester United right not to buy - Gary Neville
Last updated on .From the section Football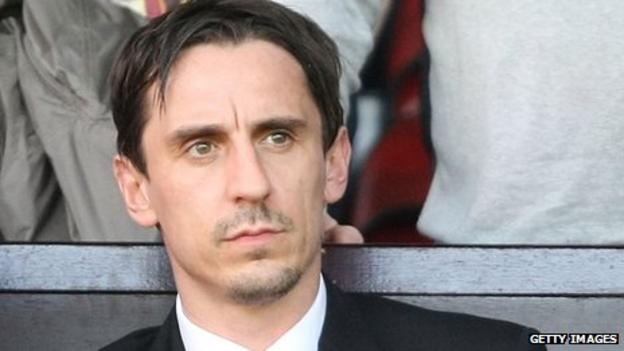 Former Manchester United captain Gary Neville believes the club are right not to buy players in January.
Neville told BBC Radio Manchester: "I've never seen it work, a player come in January, sign for big money and settle before the start of next season.
"To go into the market in January you never get full value, people think you're desperate so ask for more."
The Red Devils have suffered a succession of injuries throughout the year including captain Nemanja Vidic, who has been ruled out until the end of the season with a knee injury.
At times it has resulted in players being forced to play out of position, with midfielder Michael Carrick lining up at centre-back and winger Antonio Valencia having to play at right-back.
After signing Ashley Young, Phil Jones and David de Gea in the summer, Neville believes Sir Alex Ferguson chooses not to sign players half-way through a season due to the difficulties of integrating them.
"He's never been one to panic. You're signing a player now and he needs to get used to the club," he added.
"Potentially if he's coming from abroad you need to get used to a new league.
"You never quite get the players you want as all the top teams want to keep the best players.
"They've had a lot of injuries, but that's not an excuse because the reason you have a big squad at a big club is you're able to cope with it.
"They need to get some players back to get a consistent back four because I think problems at times have been caused by not having a consistent back four and a bit of uncertainty at the back.
"But they're still in touching distance in the league and they've fought like crazy to get to that position.
"They always come good in the latter part of the season, they have a big FA cup tie against Liverpool at the weekend, so there is a lot to look forward to.
"You just might look back at this part of the season and think a win away at Manchester City and then go and win at Arsenal as well, you could be looking back and saying it was a really crucial two weeks for Man Utd in this season."