Chairman Lord Snape says County will not leave Stockport
Last updated on .From the section Football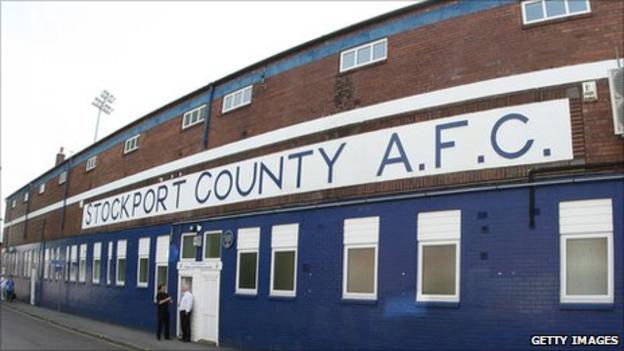 Stockport chairman Lord Snape says the club will not leave the borough, even if they move from Edgeley Park.
County currently ground share with Sale Sharks, who have been linked with a move away.
But Snape told BBC Radio Manchester: "This is Stockport County, we play within the borough and we're determined to stay within the borough.
"This is our spiritual home as well as our real home, and we want to continue playing here."
County currently pay rent to to a company owned by Sale Sharks owner Brian Kennedy to play at Edgeley Park, but the Premiership rugby side are considering a move to Salford City Stadium next season.
But even if that happens and Stockport are forced to leave Edgeley Park, Snape says the club will not leave the area.
"You can't have Stockport County playing at Salford or Macclesfield," he said.
The County chairman also said he remains convinced that they will still be at their home of 110 years next season.
He said: "We still don't know what Sale Sharks' intentions are at the end of the season, presumably when they've sorted it out they'll tell us. We'll be here next season, that's pretty certain".