Reading will not sell star names, says TSI representative
Last updated on .From the section Football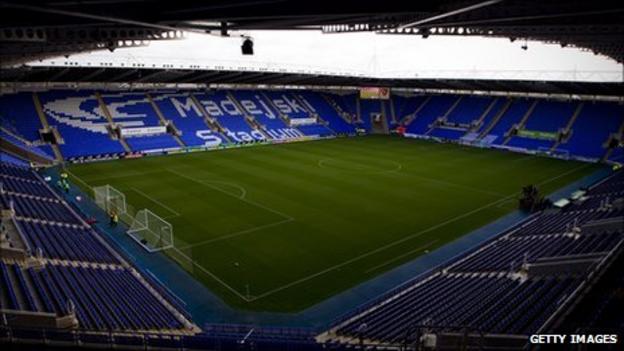 The investment group buying a majority stake in Reading say the Royals will "no longer have to be a selling club".
Thames Sports Investment, a group led by Russian tycoon Anton Zingarevich, are set to buy a 51% stake in the club.
"With Anton's support Reading no longer needs to be a selling club," Zingarevich's representative, Chris Samuelson, told BBC Radio Berkshire.
TSI are a newly founded private investment company and the transaction is scheduled to be completed in March.
The agreement, reported to be worth £40m, is now subject to due diligence and the normal procedures from the Football League.
The news of a takeover has been met with mixed feelings by Reading fans and on Tuesday football finance expert Chris Brady told BBC Radio Berkshire that supporters "should be cautiously optimistic" about the takeover.
"The policy in previous years has been to sell the best players to break even but that is not the policy now as money is available," added Samuelson - who will be one of the club's directors once the deal is completed.
"You can expect Reading to retain to its best players and add to its squad with better ones so it can achieve its objective."
Samuelson added that manager Brian McDermott, who met with Zingarevich in Milan last week, would have "limited funds" available to add to the squad in the current transfer window.
He also said that there would be "no change" in management at the club including the backroom staff and that "everyone, including players" would be staying at Reading.
Samuelson revealed Zingarevich went to Bearwood College in Reading as a youngster, and he paid to watch the Royals play at Elm Park.
He added: "Reading is an ideal club.
"It's got a great supporter base, a magnificent stadium, a good team, all ideal, and no debt.
"It really belongs in the Premier League, we have to get it back there which of course will take time, who knows when that can happen.
"The first thing is to invest in the squad and that's one thing that we are to provide some money towards. This was Anton's dream - to come in, find a football club that he could back and help grow."