Senegal fan feels pressure before tie against co-hosts
By Matthew Kenyon
BBC Sport, Bata, Equatorial Guinea
Last updated on .From the section Football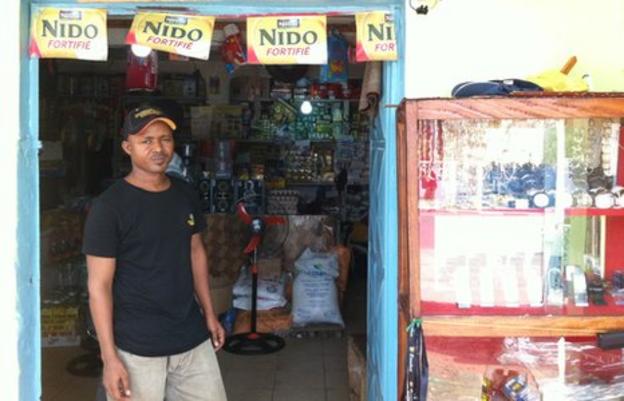 There are foreigners from many countries in Equatorial Guinea, but now is not a good time to be a Senegalese here.
Not only did the highly-fancied Teranga Lions go down 2-1 to an impressive Zambian side in their opening game of the Africa Cup of Nations, but their next match is against the co-hosts in Bata.
Equatorial Guinea have been buoyed by their morale-boosting victory over Libya, and Adamu Kebe - a Senegalese shopkeeper who lives here - is feeling the pressure.
"Bata is a nice place, and I'm happy to be here - the people are very good guys, but they were joking with me, saying the Guineans are going to win," Adamu said.
"But I say the Senegalese are going to win - it's joking, they're like my brothers."
Adamu has a ticket for the crucial game on Wednesday and is confident that his side will bounce back after that loss to the Chipolopolo - and silence his friends and neighbours.
"I'll be at the game and I'll be supporting the Senegalese," he said.
"I think they're going to win.
"I'm sorry for my brothers, but I think Senegal are going to go very far."
Amadu himself has come far to get here - having spent time in Cameroon before moving to Bata a couple of years ago.
He helps run a small shop in the sprawling city, which sits on the mainland coast of this country of fewer than one million people.
Phones, clocks, light bulbs, rice, oil and a thousand other items are on sale in the store, which lies on one of the main routes out of the town centre, just across the road from the radio station.
Amadu and his colleagues are keen to earn their small share of the oil money which is flooding into parts of this country - after all, he came here to earn a living.
"The business is growing, slowly, it's better and better," he said.
And if Senegal do return to form and secure their expected victory over Equatorial Guinea's Nzalang Nacional on Wednesday, then he will be able to answer at least some of the jokes he has had to endure in recent days.