Reading between the lines
By Tim Dellor
BBC Radio Berkshire sports editor
Last updated on .From the section Football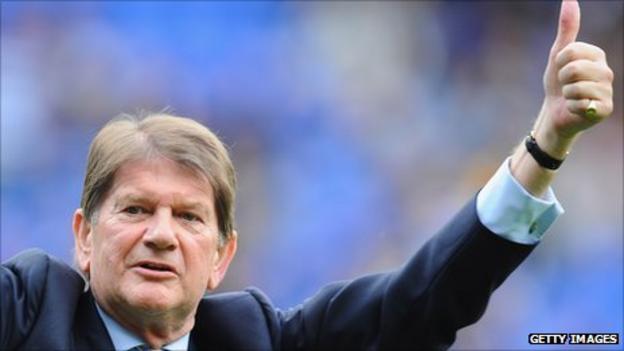 The 1-0 defeat by Hull was small fry. The big deal on Saturday was the big deal. Sir John Madejski was on the pitch pre-match, and like a proud bride's father grabbing the microphone from the DJ, he announced to the crowd he intended to give away his overall control of the club.
"Giving away" might be understating things. The right to get a 51% share of the club is going to cost Thames Sports Investment Ltd £40m. For everyone connected to Reading FC this was enormous news. For 21 calm years everyone had been able to enjoy the sport, knowing the business side was well looked after.
Suddenly everyone was more interested in share prices, prudent fiscal management, due diligence procedures, take over Heads of Agreement and The Russians.
The Russians deserve capital letters. They wish to remain anonymous until the deal has been brokered, but if like Anton Zingarevich you have £40m of your old man's money to blow on a football club when you are still in your 20s being anonymous is tricky.
Through jealousy (being in his 20s and the £40m bit) I'm going to name the man who is at the centre of all the speculation, according to several tabloids.
Inevitably the announcement divided opinion. Fans' views were split, in much the same way as you sense Reading FC employees' opinions were split. Chairman Sir John Madejski was bursting with positivity. He said: "It's one of the happiest days of my life and a great day for everyone connected to this football club."
Manager Brian McDermott was more cautious: "I've met them. I never rush to a judgement on anyone or anything. If it's good for the club then it's good for me."
One player I spoke to on Saturday evening feared the worst: "I can't help looking at Portsmouth and all the others who have got excited by takeovers but in the end it's all gone wrong."
As usual in these circumstances, the middle ground of cautious optimism is probably the most sensible approach. There are too many unknowns for Reading fans to celebrate, but at the same time an injection of cash and a few new players, or at worst an ability to keep the current squad intact, must be a good thing.
The ideal scenario would have been Sir John Madejski to have stumbled across a billion pounds. Uniquely Reading fans like their chairman. He is local, does not interfere with the football, is friendly, successful and dependable. They would have preferred him at the helm, and his money, but sadly good things must come to an end. The fear is this Russian tycoon's roubles becoming trouble.
With the exception of the odd fraudster and human rights abuser, the due diligence and fit and proper tests in place generally weed out undesirables.
All the usual procedures will take their baffling course between now and March, at which point it is hoped Thames Sports Investment Limited will run Reading FC. Sir John will stay on as chairman, but inevitably with diminishing control of events at the stadium named after him (I understand it will remain the Madejski Stadium).
My opinion? It is unchartered territory for everyone. It is a whole new ball-game. Be careful what you wish for. I am told being rich does not ease pressure, it simply brings different pressures.
Tim Dellor is BBC Radio Berkshire's Reading commentator.