Federal court disbands Nigerian football federation
By Oluwashina Okeleji
BBC Sport, Lagos
Last updated on .From the section Football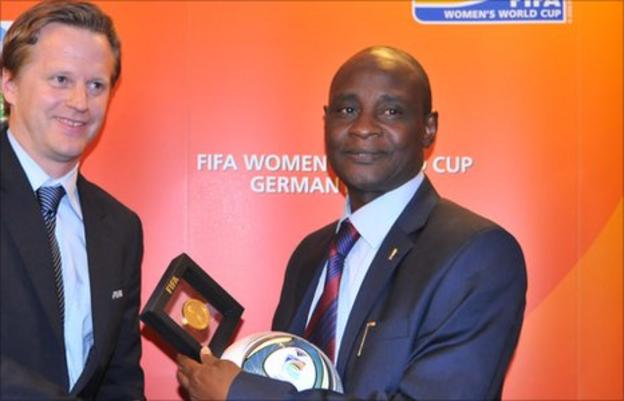 Nigerian football has been thrown into turmoil after a federal high court in Abuja dissolved the football federation (NFF) and Premier League (NPL).
Sam Sam Jaja, a former Nigeria Referees Association (NRA) president, went to court to challenge his disqualification to run in NPL elections two years ago.
In his motion, Jaja wanted the court to determine the NFF and NPL's legality in line with Nigeria's 1999 Constitution.
Judge Okorowo declared neither the NFF nor NPL had any statutory recognition.
He also declared the electoral body had inflicted an injury on the plaintiff, Jaja, by unlawfully disqualifying him.
Having gone through the submissions, Okorowo also contended that it is only the Nigeria Football League Limited (NFL) and the Nigeria Football Association (NFA) that have the legal authority to operate in the country.
"As recognised by the National Assembly act of 1999, the NFA is the legal body that is saddled with the responsibility of handling football matters in the country with other affiliate bodies recognised by it," said the ruling.
"It is very obvious that the NFA domiciled in Nigeria can only operate under the Nigerian law. Fifa is a corporate body registered under the Swiss law, which has no powers over the laws of Nigeria.
"Therefore the names NPL and NFF are illegal before the law, since there is no statutes recognising their existence in the country.
"The court therefore submits that if any of these bodies continue to transact business under a name that is not recognised by law, they are doing such at its own risk."
Lawyer to the plaintiff, Phil Oguchukwu, was directed to file contempt proceedings against the NFF and the NPL if both bodies continue to operate after Okorowo's ruling on Friday.
Reacting to the ruling, the Nigeria Football Federation said in a press statement that they have yet to receive a copy of the judgement.
"We have not seen a copy of the judgement apart from the chat we had with our lawyer," stated NFF secretary-general Musa Amadu.
"By the time we get a copy of the judgement on Monday, we will be able to react fully. As for now, the business of running Nigeria football is unaffected, as we have 90 days to appeal any judgement, during which the status quo, legally, remains."
Nigeria's Super Eagles are trying to revive their flagging fortunes after their failure to qualify for this month's African Cup of Nations.
But court cases, infighting and government interference in the administration of the NFF have overshadowed plans to revitalize football in the country.
Fifa had initially imposed a ban for what it called "government interference" in the running of Nigerian football in the wake of the national side's early exit from the World Cup.
But it lifted the ban provisionally after some steps were taken, notably allowing the country to play a 2012 Nations Cup qualifier in Guinea.
Fifa rules prohibit any government intervention with its members.