Celtic's James Forrest won't rest after Fifa accolade
Last updated on .From the section Football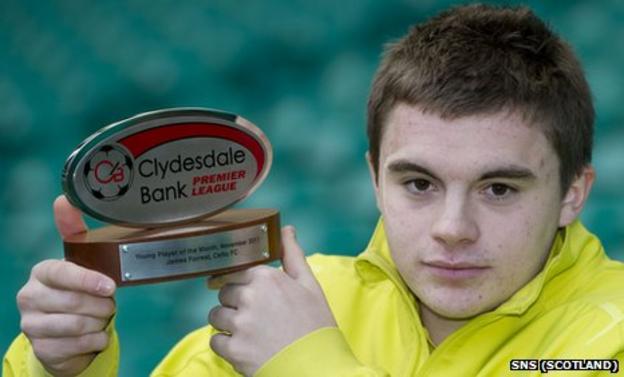 Celtic winger James Forrest aims to keep flying under the radar at Celtic after being named as one of world football's top talents.
"I heard about it at the start of the week, but nobody here has really said anything about it," he said after being listed by Fifa as one of 13 players to watch in 2012.
"I am quite glad about that. I just want to continue playing for Celtic.
"It is good to hear that people are recognising that you are doing well."
Forrest, who could play for Team GB at the Olympics, has vowed not to rest on his laurels after being highlighted internationally and has highlighted the wealth of talented youngsters in Scotland
"I'm just a young boy and I have to take everything in my stride," he said.
"Maybe it will get Scotland a little bit of recognition.
"There are a lot of good players in Scotland and maybe people don't see that.
"You look at the under-19s team here, they come up and train with the first team a lot and there are a lot of good players coming through.
"But you can't sit back because you are on the list, you still need to work hard and play well and that's what I want to do.
"I want to do well and that will help the team."