Reluctant David Weir ready for Rangers bow
Last updated on .From the section Football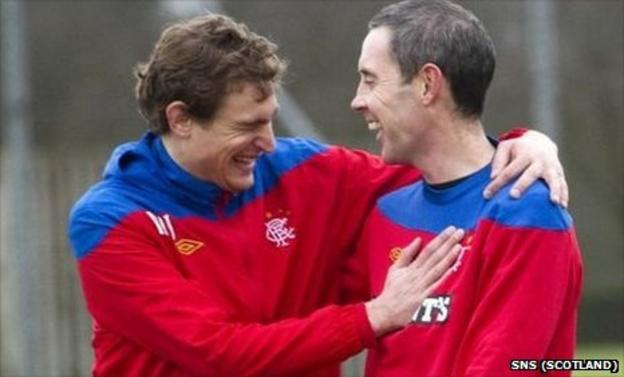 David Weir will wave goodbye to Rangers with no regrets, his only reluctance being having to do it so publicly.
He is looking for a new club in England after losing his place and now handing the captaincy to Steven Davis.
The 41-year-old defender believes it is the right time to leave and will take his bow during the visit of Aberdeen.
"I just wanted to go home quietly and avoid it but was talked into it by the manager and a couple of other people I respect," he told BBC Scotland.
Weir moved from Everton to the club he supported as a boy in 2007 and helped them win three league titles, two Scottish Cups and three League Cups.
He signed a new one-year contract in the summer, but the arrival of current international central defenders Dorin Goian and Carlos Bocanegra has left him on the sidelines since an early-season injury.
"I had always made an agreement with Walter Smith and the manager now that, if I wasn't playing, I would shake their hand and walk away," said Weir.
"I wanted to be fair to the club and they would have a wage that could be used better than it is at present.
"The time's right for me to move on, which makes it that bit easier.
"It's the right decision, but I'll still be sad to go.
"I am going to miss it greatly. It's been a big part of my life for the past five years as a player and obviously I was a fan before that."
Weir found it difficult to pick out a favourite moment out of so many successes at Ibrox.
"Winning the league the first time back at Tannadice, that was a great day, achieving what we had come so close to the year before," he said.
"Doing that was definitely one of the peaks and winning it last year again at Kilmarnock, that was special to come out on top in such a pressure game.
"They probably sum it up best if I was to pick a couple of games and maybe even the Cup final against St Mirren when we were down to nine men and still managed to win."
Weir, who has won 69 Scotland caps, started his career with Falkirk before spells with Hearts and in the English top flight with Everton.
"I've been fortunate in my whole football career. I've played in great places and played with great players and met a lot of nice people," he said.
"This has been the icing on the top of the cake. It has been a special time.
"I've enjoyed every minute - from the time I walked through the door, it couldn't have gone any better."
Weir's family remain in England and, although he is not yet ready to retire from playing, he hopes to find an employer closer to their base.
"I have worked away from home for five years now," he said. "That takes its toll and it's only fair now that I can head home and hopefully work from home."
Meanwhile, manager Ally McCoist has confirmed that Davis will now take the skipper's armband on a permanent basis, with Bocanegra as his vice-captain.