Chris Coleman hints at Kit Symons Wales coach role
Last updated on .From the section Football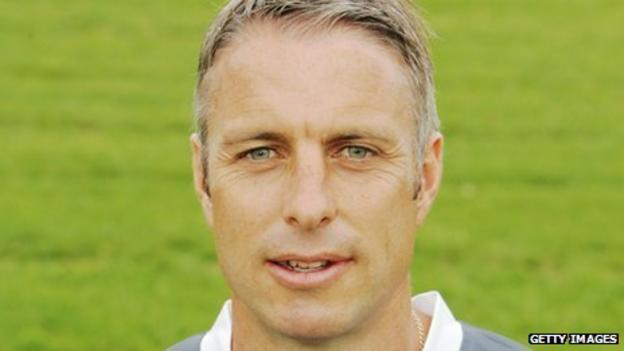 New Wales manager Chris Coleman admits Fulham academy coach Kit Symons could become part of his back-room staff.
Several leading Welsh players have said they want Raymond Verheijen and Osian Roberts to continue in the new set-up in the wake of Gary Speed's death.
Aaron Ramsey, Gareth Bale and Ashley Williams were among those to back Verheijen and Roberts' claims.
Coleman has not ruled out the duo, but said: "That [bringing in Symons] is a big possibility."
Verheijen and Roberts were Speed's assistants during his reign that achieved five wins in 10 games as Wales made the during 2011 as Wales moved into the top 50 for the first time since April 2003.
But following Speed's shock death in November, Verheijen and Roberts' futures with the national set-up have been in doubt while Verheijen called for a "figurehead" to be brought in as the new boss.
Coleman, 41, will be Wales manager until 2014 and says there can be no doubt over who is in charge.
He said: "I've seen some of the comments and if you wanted a figurehead in there, somebody pretending to be a manager, I'd just go and get an actor to go in there and pretend to be a manager.
"It's the same game, isn't it? You are or you aren't. You're a number one or a number two.
"And you can't have someone in there acting, pretending to be the manager whilst somebody else is doing everything.
"And in all fairness, as I understand it, Raymond has done a lot of the coaching and the players have responded.
"But I know football, I know football players.
"Players are playing very well for one man that's not with us any more and I think some people forget that - it's Gary Speed.
"But there will be conversations that are going to take place and I'll speak with the people accordingly."
Coleman is good friends with former Welsh international and Fulham team-mate Symons, who won 37 Wales caps between 1993 and 2004.
"He's doing a great job with Fulham at the moment, with the under-18s.
"They are top of their league. He's highly thought of at Fulham, but like any manager when you go into a new place... but every job I've taken I've not gone in with a big, big axe and started sacking people.
"I don't work like that. But at the same time I like taking some faces that I know."