Hearts striker Kevin Kyle has 'unfinished business' at Tynecastle
Last updated on .From the section Football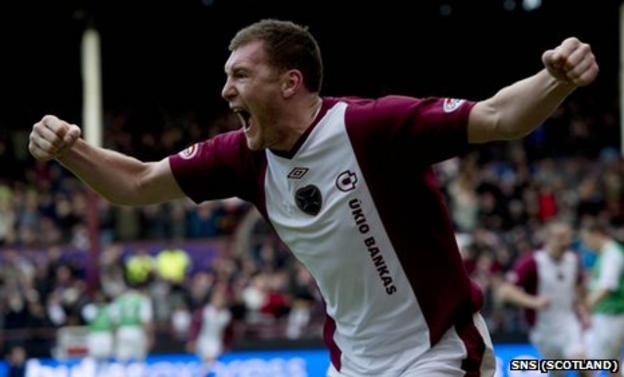 When Hearts lost at home to St Johnstone in the Scottish Cup one year ago, their hopes of reclaiming the trophy for the first time since 2006 were dashed.
Until that midweek match, it had been going so well for the 10-times capped Scotland international.
Ten goals in 22 appearances had helped the Edinburgh side move into the Scottish Premier League's top three, where they would eventually finish the 2010/11 season behind both halves of the Old Firm.
"I feel like I have unfinished business there," said Kyle. "The first four or five months I had with Hearts were so good.
"I've obviously been out now a year and it's taken a long time to try to work out what's actually wrong with me.
"I've seen various specialists, various surgeons and I've went through two procedures already - one in the hip and one for a sportman's type hernia - which didn't cure the problem I was feeling.
"If I can get it done at the end of January, that would give me until the end of April. You never know, I might make the last game of the season, which would be nice.
"Because, if it was going to be my last chance at Hearts, it would be nice to come on the park for a couple of minutes and say thanks and say I enjoyed the time, although it was a hard time."
Unfortunately for Kyle, this is not the first time he has faced injury problems and he is pinning his hopes on specialist surgeon Damien Griffin.
"It is something I had before," said the former Sunderland and Kilmarnock forward. "A bit of bone that was touching and impinging and giving me sharp pains in my groin, similar to what I have now.
"Six years ago, they used to shave the socket to allow the head to fit in better, but now they have reversed it and they shave the head.
"So he will shave the head and, if the pain continues, I'll know that it is the arthritis that's causing the problem.
"This is one of the top hip surgeons in the world and he has given the clearer picture."
Until this latest bout of surgery, Kyle's career remains in the balance and the 30-year-old is currently studying towards a diploma in independent financial advising while looking at doing coaching badges.
"When you are a footballer and have a gammy knee or a gammy ankle, trying to get insurance on that part of the body that's already been a problem in your career, you just don't get insurance for that," added Kyle.
"The club has funded everything so far.
"It is a 50/50 situation. If it is the arthritis, I am obviously going to have to hang the boots up."