Sol Davis rules out Kettering Town strike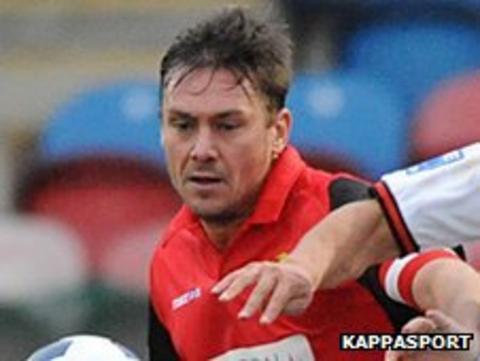 Kettering Town captain Sol Davis says they will go ahead with Saturday's Blue Square Bet Premier match against Wrexham, despite off-field issues.
Caretaker boss Mark Cooper has taken a step back from running the Poppies while players are not being paid.
Davis and midfielder David Bridges took charge of training on Thursday, with seven other players present.
"It's gone beyond a joke. But I don't think we gain anything from refusing to play," he told BBC Radio Northampton.
"We'll continue to do our jobs as best we can, if we can field a team.
"We'd be in breach of our contracts - even though we're not getting treated as we should and people aren't honouring contracts we've signed."
The Poppies lie 22nd in the league and have not won a match since October. But the off-field issues are the greater concern, with Cooper recently expressing fears that the club were close to being unable to fulfil fixtures.
Davis is not yet clear on how many players would be available for Saturday's trip to the league leaders, nor how they would travel to the match.
And the 32-year-old defender says he does not know whether he will be asked to run the team at the Racecourse Ground.
"I have absolutely no idea how we'd get to the game. Hopefully, we'll hear something tomorrow, so we know what we're doing on Saturday morning," he said.
"I've been here before, with administration and not being paid. All you can do is keep going, get on with it and fingers crossed something will happen and it'll get sorted out.
"Some of the lads are struggling quite badly. Although we're all in it together, everyone's got different circumstances.
"I've never seen it this bad and I don't think any player in that dressing room has. I don't know how much worse it can get."
Despite the players' difficulties, Davis says they feel sympathy for the club's fans.
"Players will start to leave and players are looking for other clubs," he said. "But the ones who are going to suffer are the fans. It's their football club and they're the ones being punished at the moment, no matter how bad the players feel.
"I think the fans are right behind us, they've been brilliant. We've had messages of support and they've said whatever we decide to do, they'll back us all the way," he concluded