Roberto Mancini says he copied Wayne Rooney card gesture
By Alistair Magowan
BBC Sport at DW Stadium
Last updated on .From the section Football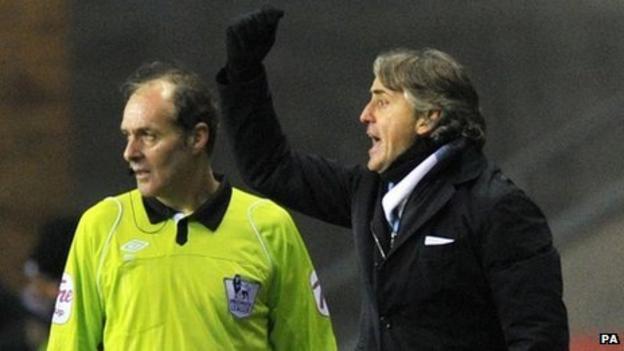 Manchester City boss Roberto Mancini has defended his brandishing of an imaginary card in an appeal for Maynor Figueroa to be sent off for handball in Monday's 1-0 win over Wigan.
The Italian manager said his actions were "normal" in the circumstances and pointed out that Manchester United striker Wayne Rooney had done something similar when Vincent Kompany was sent off during his side's defeat by United in the FA Cup earlier this month.
Edin Dzeko headed the game's only goal at the DW Stadium as City moved three points ahead of rivals United and five points ahead of Tottenham, who they face next Sunday.
But as the visitors pressed for a second goal with time running out, Figueroa stuck out his arm on the halfway line to prevent City striker Sergio Aguero being sent through on goal.
The blatant handball led to City's manager brandishing an imaginary card, but the Wigan defender was only booked.
After Kompany was sent off for a foul on Nani in the FA Cup tie, Mancini complained Rooney had played a part in the City skipper being sent off by turning to complain to the referee.
He also claimed his actions at the DW Stadium were of a different nature to Rooney's because he was on the touchline, where he had less of an influence over the referee than a player on the field.
"I did [the waving of an imaginary card] because Rooney did this, but this was normal when there is one chance like today," he said.
"I am on the bench. It's different from a player who is near the referee.
"From the bench it's what you think at the moment, but the referee doesn't see you on the bench."
After Monday's game, Rooney asked on Twitter: "Was Mancini asking for a red card?"
Mancini also had an altercation with Liverpool skipper Steven Gerrard after the Carling Cup tie between the two sides last week.
The Italian said the two-footed tackle by Glen Johnson on Joleon Lescott was worse than Kompany's on Nani, but the Liverpool defender went unpunished.
But Gerrard accused Mancini of hypocrisy saying: "He was talking about Wayne Rooney trying to get his player [Kompany] sent off and now he's trying to get one of ours into trouble. I don't think that works."
Wigan boss Roberto Martinez did not believe Figueroa should have been sent off for the handball because there was a covering defender.
But he said he understood that Mancini comes from a different culture where actions like waving a card are more accepted.
"I've been here long enough to understand that trying to influence the referee is not accepted in the British game," he said.
"I've been here since 1995 so when a player tries to simulate or to buy a decision from the referee that's not seen as clever, that's seen as cheating.
"It's different ways to understand the game. In Italy and Spain and France, you try to get decisions from the referee and both teams are allowed to do that. But it's very different from what happens here."