Truro City avoid being wound up after paying tax debts
Last updated on .From the section National League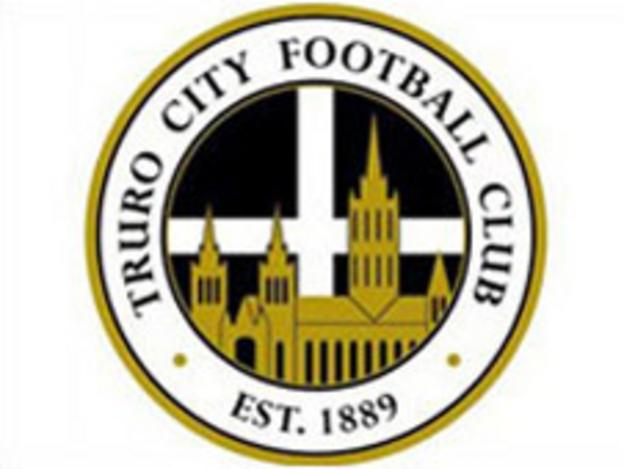 Truro City have warded off the threat of being closed down after paying off their tax debts.
City, who , faced a winding-up petition in the High Court on Monday.
But before the hearing the club paid off their debt in full.
Had the club failed to pay their debt it would have been likely that the court would have ordered them to have been liquidated.
The club will go before the High Court on 30 January to confirm that their debt has been paid and end the legal action against the club.
"There are no other creditors chasing Truro City FC at all although we are chasing people that owe us money," chairman Kevin Heaney told BBC South West.
"We shall be vigorously chasing people that owe us money which runs way beyond six figures and had these companies paid us then our issues wouldn't have arisen in the first place."
The end of legal action means that Truro City can now apply to the Football Conference to have their transfer embargo lifted.
The club have been unable to sign players since their financial plight began which has seen them sometimes have a squad of just 13 players for Blue Square Bet South matches.
"It's business as usual," Heaney said. "We shall be contacting the Conference to have our transfer embargo lifted and looking forward to our away game at Bromley on Saturday."
It also means that City will now sign up to a new stadium for Cornwall.
The project had been on hold because of City's financial problems and led to the , should they win the Championship, as the new ground would not be ready.
"We will now sign up to the stadium," Heaney said. "Once we sign up to the stadium and there's an agreement as to when the stadium will be built that will allow us to talk to investors to sign up to the club.
"We can't go to the next level in our current home because we don't have the stadium to take a Conference Premier team."
Under Heaney's leadership, Truro City have , two divisions off the Football League.