Four candidates on Bristol Rovers manager shortlist
Last updated on .From the section Football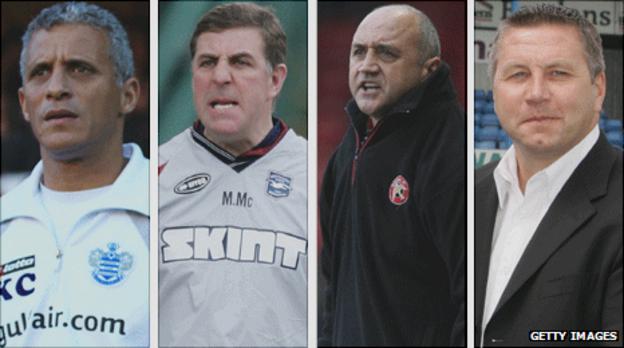 Bristol Rovers have shortlisted four candidates for the vacant manager's job, chairman Nick Higgs has confirmed.
Ex-Colchester manager Geraint Williams and former Aberdeen boss Mark McGhee have also been linked with the role.
"We're hoping by Wednesday or Thursday to make an appointment," Higgs told BBC Radio Bristol.
Assistant manager Shaun North has been in caretaker charge at the League Two club since they dispensed of Paul Buckle on 3 January.
After seeing five different managers take charge of the club in the last 12 months, Higgs says the board have taken their time in choosing Buckle's successor.
"We're going through it the right way as we are desperate to not make the wrong decision and it takes time to vet the applicants and speak to them," said Higgs.
"We want someone who wants to come to the club for the right reasons, who has hunger in their eyes and wants to take the club forward."
Former Doncaster manager Sean O'Driscoll, who has been linked with Plymouth as a mentor for Argyle boss Carl Fletcher, was the initial favourite for the job, and although Higgs confirmed they had "dialogue", they could not agree terms.
It was reported on Friday that Burton Albion boss Paul Peschisolido had been approached and turned down the offer of an interview.
However, Higgs claims Peschisolido's agent was the first to contact them about the vacancy.
"We had an application from Paul for the position," said Higgs. "We went back to the chairman of Burton and asked to obtain a CV. The chairman granted us that permission and we spoke to Paul who said 'I'd have to speak to my wife first'.
"He then said he didn't want to come to Bristol and in the meantime the chairman had upped his budget and kept him there.
"We never offered him a job or interview. All we did was respond by asking for back-up information so we could follow things up."
Responding to Higgs' claims, Peschisolido told BBC Radio Derby: "He can say what he likes but I can assure you I didn't apply for the job.
"I was called by a member of the board and asked if I'd be interested. I did say I'd have a think about it but then I told them I wasn't interested.
"Why would I make an approach and then turn it down? It's silly."