Luis Suarez backed by Liverpool chief Ian Ayre
By Ian Dennis
Senior Football Reporter
Last updated on .From the section Football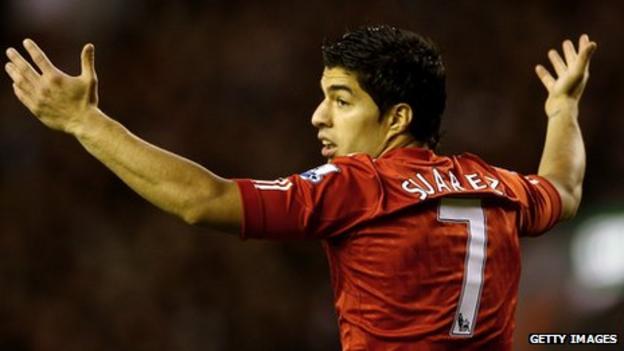 A lot has been said and written about Liverpool football club in recent weeks after Suarez was banned for eight matches by the Football Association for racially abusing Manchester United's Patrice Evra.
When he returns from his lengthy suspension next month it will mark 12 months since he arrived at Anfield.
On 2 February 2011 the Uruguayan made an immediate impact in English football by scoring on his debut in a 2-0 home victory over Stoke - one year on and Suarez will feel like he is starting all over again after completing his suspension.
The spotlight will be on the striker but Liverpool's managing director Ian Ayre is backing him to come through his troubles.
"It will be tough, we shouldn't kid ourselves that opposing fans are going to give him the best of times because that's the nature of football," Ayre told BBC Sport.
"But he will get 100% support from Liverpool Football Club.
"Luis has come in for a lot of criticism but, we made a decision, Luis made a decision, not to appeal and the reason we did that was to move on.
"He also made a decision not to appeal the ban. Those things have been accepted and he is serving the penalty so we start afresh.
"The best way Luis can come back is to get on the pitch and score some goals and that's what everyone will expect of him."
The club's stance and defence for Suarez resulted in a lot of criticism, particularly their decision of their players to wear T-shirts ahead of the Wigan game showing support of Suarez, but manager Kenny Dalglish insists the club is committed in its fight against discrimination.
"There has been a perception the club isn't doing what it should be doing," he said.
"The players showed support for Luis which was fantastic but then some people interpreted that wrongly as the players saying they're not interested in the fight against racism. That is totally and utterly rubbish."
The Reds employ more than 20 qualified community coaches and a dedicated social inclusion officer and are involved in a number of programmes including Kick It Out.
Last January they became the second Premier League club to be awarded the Kick It Out Equality Standard Preliminary Level.
And Ayre added: "[Kick it Out] is a fantastic programme and one that our players like to support.
"It's probably the one that most fans can associate with because it's so high profile at matches and games at certain times of the year but it's one of so many programmes.
"On the same day of the incident at the Oldham game we had a bunch of our community staff heading to the Middle East to work with the United Nations and these things will continue to go on for many years."
Liverpool are keen to move on but at the end of January they have a home tie in the fourth round of the FA Cup against Manchester United and the Suarez affair provides an extra dimension towards the intense rivalry that exists between the two sets of supporters.
Suarez will still be serving his suspension and Ayre does not feel there are bridges to be built between the two clubs.
"It will be turned up a couple of notches because of everything that has gone on but we'll do the things we always do between ourselves and Manchester United," he stated.
"We will talk about how we both control the fans and how we make sure that everybody who comes has a great, safe and enjoyable day."