Malky Mackay rules out 'knee-jerk' Cardiff City signings
Last updated on .From the section Football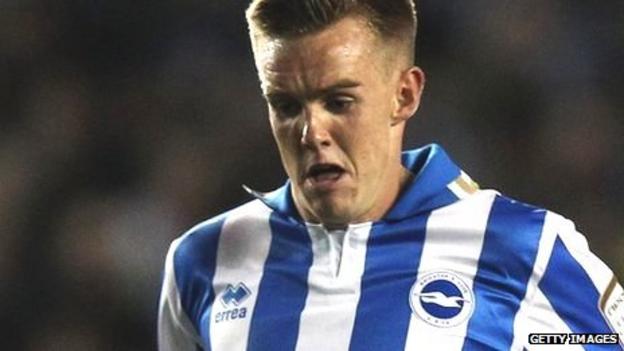 Cardiff City manager Malky Mackay says he "wouldn't be devastated" if the club failed to sign any new players during the January transfer window.
But the Scotsman insists he will not make any rash signings or pay "inflated" transfer fees.
"This transfer window is one when you don't do knee-jerk [signings]," said Mackay.
"If you do that you repent at your leisure with players that you're stuck with that you were not particularly wanting to go for in the first place.
"It's not about being reactionary - it's about sticking to your plan and following that through. If that means patience, then that's what it takes.
"If it means waiting until the last couple of days to get a deal done, then so be it.
"We certainly won't be jumping at some last-minute signing that hasn't been on our radar and were not sure about just to get someone in the building
Cardiff are believed to have offered £500,000 to Brighton for 24-year-old winger Noone.
Mackay was noncommittal over his intentions to submit an increased offer, saying: "We're assessing the situation.
"We put our offer in and it was rejected so we'll have a look to see where we go from there.
"We've got some other targets that so we'll decide if we go elsewhere or not. That's something we'll resolve in-house."
Losing players is also a concern for Mackay, who has guided the Bluebirds to just two points off the top of the Championship with less than half of the season remaining.
Peter Whittingham's continued fine form has once again put him in the shop window, but Mackay refuted reports that West Bromwhich Albion had joined West Ham United in making a bid for the midfielder.
Whittingham, along with Kenny Miller, have received a letter from Team GB manager Stuart Pearce saying they are being considered for selection in the 2012 Olympics squad.
After stressing in October he does not want his players involved at the Olympics in July and August, Mackay has softened his stance by saying he would not prevent any of his players from playing.
But, with Pearce's recruitment process at such an early stage, Mackay added: "There's no point in discussing it until it comes up.
"There'll be a point where eventually a shortlist and that will be the squad that Stuart Pearce would want to take.
"At that point there would be decisions to be made by players, by associations, by clubs. There's no point in getting excited by it right now."
Meanwhile, Dekel Keinan has returned to Cardiff after a deal to extend his loan spell at Crystal Palace could not be reached.