Brendan Rodgers gives Swansea City players 2012 Olympic blessing
Last updated on .From the section Football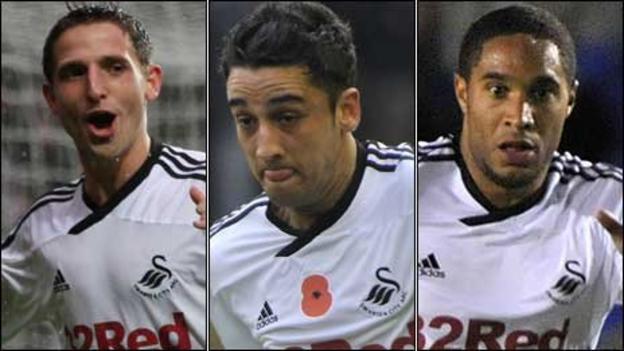 Brendan Rodgers admits playing at the Olympics would be "once in a lifetime" as four of his Swansea City players have been shortlisted for Team GB.
Wales internationals Ashley Williams, Joe Allen and Neil Taylor have letters from Team GB boss Stuart Pearce saying they could be included at London 2012.
Swansea's on-loan England under-21 defender Steven Caulker has also been notified of possible Team GB inclusion.
"If it's good enough for Lionel Messi," said Swans boss Rodgers.
"Then I'm sure it's good enough for one or two other players.
"My feeling is if they have the opportunity to play it's fantastic for them.
"I have spoken to a number of them individually and there is a long way to go before selection but it's something I encourage.
"It's a chance that might come once a in a lifetime for these players, and while it is not one of the top football tournaments in the world... it will certainly be at a good level.
"If we have young players in that playing against top players and then that will make them better players for Swansea."
Olympic selection is a controversial issue in Wales as the Football Association of Wales do not want their players taking part for fear of harming their individual status within Fifa.
Wales stars Gareth Bale and Aaron Ramsey both came in for criticism when they were pictured wearing the Great Britain 2012 Olympics supporters shirt earlier this month, but Pearce is hopeful both will "sign up" to the team after he admitted both are on Team GB wanted list.
Wales midfielder Allen had already stated his desire to play at the 2012 Olympics as "it's too good an opportunity to miss."
Involvement in the games would also see the players miss the majority of pre-season as the tournament takes place during July and August, although Caulker's fitness will not be a concern for Swansea as he will have returned to Tottenham Hotspur following completion of his loan in south Wales.
And while Rodgers admits it would not be ideal for his players to miss so much of their preparations for the new campaign, he has no intention of denying them the chance to feature at a home Olympics.
"I spoke to Stuart Pearce at the Arsenal game the other night and he sang the praises of all the Swansea players he has included," Rodgers told the South Wales Evening Post.
"It's fantastic for them to be on the initial list, although it's not ideal for Swansea City to be missing our best players.
"If they are in the final squad, they will miss nearly all of pre-season and the start of next season.
"If I was being selfish then I would want the players here, but it's bigger than that. Going to the Olympics is something that in a player's life they might want to achieve."
Olympic rules state countries can only select a maximum of three players over the age of 23 so centre-back Williams, who has captained Wales on a number of occasions, could be one of the overage players alongside former England captain David Beckham.