Cristiano Ronaldo's Real Madrid love affair could be on the wane
By Andy Brassell
European football expert
Last updated on .From the section Football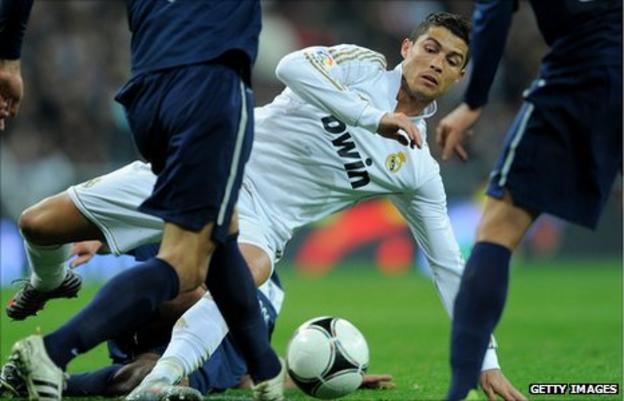 Jose Mourinho couldn't have asked for a much better weekend. His Real Madrid side enjoyed a comprehensive home win last Saturday night - and Barcelona's concession of a late equaliser in Sunday's derby against Espanyol left them five points behind the capital club.
Even if they were bested in El Clasico, Los Merengues are looking good to wrest back La Liga for the first time since 2008. Yet there is one cloud on the horizon. Even after two goals from the rejuvenated Karim Benzema, Cristiano Ronaldo was the main subject of post-game chatter.
He declined to celebrate the goal he scored in the 5-1 beating of Granada because, according to some, he was irritated by murmurs of discontent directed at him from the Bernabeu stands.
"That's just the way Cristiano is," shrugged his team-mate Sergio Ramos after the match. Ronaldo's energy drives the side to such an extent that the dressing room is willing to forgive a few minor mood swings.
The bare statistics make any criticism appear absurd. It was his 26th goal of the season overall, and his 21st in 17 La Liga matches. Yet, while the Bernabeu is hardly in open mutiny against its star, it is clear that some fans still hold him responsible for the defeat against Barca.
Despite his statement at a recent sports forum in Dubai that he is "happy" at Real Madrid and that he wants "to remain at the club in the future", some have suggested that Ronaldo will tire of this treatment and move on.
It has been floated in other quarters that the recent repeal of the 'Ley Beckham' (Beckham Law), limiting the amount of tax payable by foreign footballers in their first six years in Spain, may also put his nose out of joint.
What is abundantly clear in Ronaldo's every action is that money is not his prime motivator. It is a highly developed sense of personal pride. His obsessive streak has been clear in his failed attempts to grab the 2009 Champions League final (for Manchester United) and many a Clasico by the throat. It has also seen him do a reputed 3,000 sit-ups per day, perfect his free-kick technique and become a formidable header of the ball.
His perceived big-time attitude is just a question of perception. His extraordinary dedication turned him from a scrawny teenager into one of the world's most irresistible forwards of the past 20 years. It is now being used as a stick to beat him with, however.
Ronaldo's supposed snub of this week's Fifa Ballon d'Or ceremony, where he again finished second to Lionel Messi, was no such thing. Real had a tricky Copa del Rey match away to Malaga to prepare for - "the first final of the season", as Tuesday's Marca described it. Barcelona's own Copa game at Osasuna was not until Thursday and was almost a dead rubber, with Messi and company having won the first leg 4-0.
The interminable debate pitting Messi against Ronaldo never reflects well on the Portugal captain. It is a loaded argument, in that Messi has grown organically in his surroundings for the past dozen years. The collective benefit is clear. Ronaldo is an extraordinary individual who was bought to pull Real Madrid up by the scruff of the neck, and has done so.
Ronaldo can't win. If he'd have celebrated his goal against Granada, the token fifth, he'd have been called an arrogant bully. When he didn't, he was labelled a sulker. What did people expect? A lap of honour?
Mourinho is clearly unconcerned. "I think it is more relevant that he celebrates the goals that win games and not the fifth goal in the 90th minute," he said of his compatriot. "I didn't even get up."
The Portuguese pair have been here before, and will not worry what the outside world think. Ronaldo famously said last season that he would have given up "15 or 20" of his 53 goals last season to win La Liga. This time, it looks like he might not have to.