Ipswich manager Paul Jewell hits back at claims he is sexist
Last updated on .From the section Football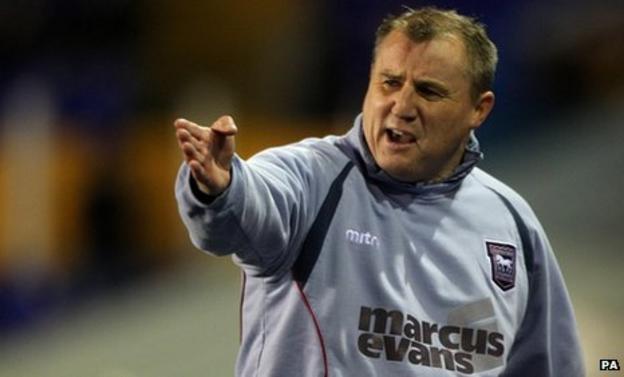 Ipswich Town manager Paul Jewell has hit back at claims that he is sexist.
Jewell made comments following his side's 2-1 defeat by Birmingham City, which he believes were misconstrued.
He was furious that assistant referee Amy Fearn did not award his side a penalty for Steven Caldwell's 81st-minute challenge on Lee Martin.
Referees' trade union Prospect claimed his remarks were "clearly sexist", but the Football Association confirmed that "no further action" will be taken.
In the post-match press conference after Wednesday's match at St Andrew's, in response to a journalist suggesting that "everyone to a man thought it was a penalty", 47-year-old Jewell jocularly replied: "To every man, but not a woman."
But Jewell told the club's official website on Thursday: "I absolutely refute suggestions that my comments were made in a sexist way.
"I didn't suggest in any way that the official made a mistake because she was a woman. I don't think what I said was sexist and will argue all day long with anyone who says it is.
"The comments have been taken out of context, which is disappointing, but that seems to be the world we live in now."
Having faced mounting speculation over his future, Ipswich's defeat at St Andrew's was a 10th for Jewell in 13 matches.
In his immediate post-match response, Jewell said: "Although the referee didn't have a good view, the lineswoman, or whatever she's called, had a great view.
"It's a stone-wall penalty and it's a sending-off but he [referee Robert Lewis] didn't give it. You better ask him why he didn't give it, or her why she [Amy Fearn] didn't give it."
Commenting on Jewell's choice of words, Alan Leighton, head of Prospect, told BBC Radio 5 live on Thursday morning: "These comments are clearly sexist and there's no place for them in football.
"They show that women are not fully accepted within the game at the present time. It puts unbearable pressure on female assistants and referees who are aware that every time they step on to the pitch they are under special scrutiny.
"That isn't going to be something that's going to attract women to the game and that's why people do need to take a view that they're not going to make foolish, sexist comments."
Fearn, formerly Amy Rayner, was the subject of criticism from Luton manager Mike Newell in 2006 which saw him fined £6,500 by the Football Association.
Newell made a public apology to Fearn after saying, following a 3-2 defeat by QPR: "This is not park football, so what are women doing here?"