Alan Tate and Ferrie Bodde in Swans reserves
Last updated on .From the section Football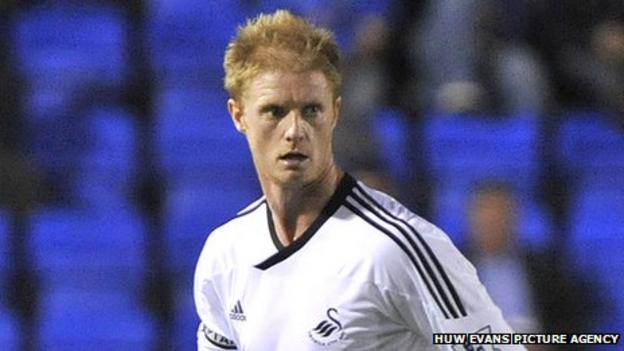 Swansea City duo Alan Tate and Ferrie Bodde stepped up their comebacks in a reserve match at Hereford on Wednesday.
And Rory Donnelly also made his debut following his transfer from Northern Ireland club Cliftonville.
Bodde was back in action for the first time since a pre-season friendly at Port Talbot - his last competitive game was in February 2010 at Peterborough.
Tate was back for the first time since breaking his leg after captaining the side in the opening Premier League fixture at Man City.
Tate broke his his leg in what the Swans described as a "bizarre golfing accident".
In a statement the club said Tate was a passenger in a golf buggy that lost control on Sunday.
The 28-year-old was taken to Morriston Hospital where he was diagnosed with a fractured tibia of his left leg.
Tate and Bodde made way at the interval and with a solid 45 minutes under their belts.