Namibia's Zengue appeal to CAS turned down
Last updated on .From the section Football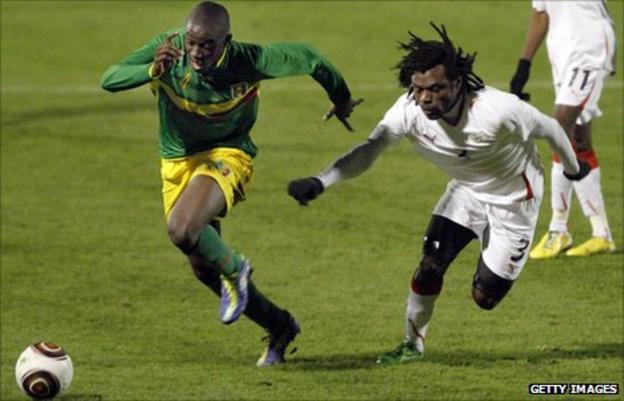 The Court of Arbitration of Sport (CAS) has turned down Namibia's bid to claim a place at the Africa Cup of Nations.
The decision means Burkina Faso retain their place at the tournament, which starts on 21 January.
Namibia said the Burkinabe used an ineligible player in qualifying and as a result they should go to the finals.
Their appeals to Caf over the eligibility of Herve Zengue were turned down twice, leading them to take their case to the Court of Arbitration.
CAS did not reveal the reasons for its decision, but said in a statement that Zengue, who was born in Cameroon but is married to a Burkinabe "took residency in Burkina Faso in 1994".
It went on to say that he was given Burkinabe nationality in 2006 and received a 5-year passport in March 2011.
He appeared in both qualifying matches that Burkina Faso played against Namibia in the build up to this month's tournament, hence Namibia's complaint.
He has not been included in coach Paolo Duarte's squad for the competition itself.
The case was fast-tracked by CAS because a place at Equatorial Guinea and Gabon 2012 hinged on the result.
Namibia's FA President John Muinjo said they would accept the decision.
"As law abiding citizens we will stick by the decision and respect it - and we will move on and continue playing organised football," he told the BBC.
The Burkinabe can now continue to prepare for the tournament, where they will face Ivory Coast, Angola and Sudan in Group B of the tournament.
"[The decision] will allow us to better prepare for the competition,'' Burkina Faso Football Federation secretary-general Emmanuel Zombre said.
"Players and staff were beginning to be affected by ongoing references to the case.''
They played out a 0-0 draw against co-hosts Gabon in Bitam on Monday.