Captain Aaron Ramsey stands firm on Wales coach search criticism
Last updated on .From the section Football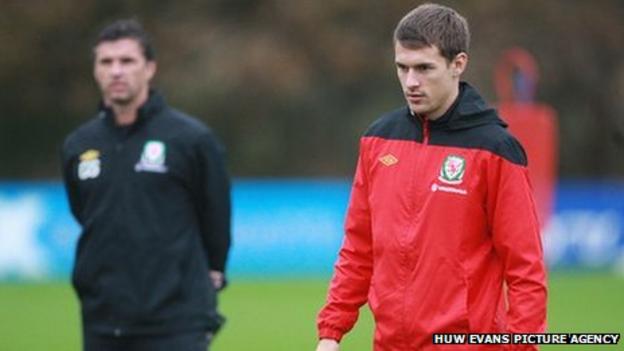 Wales captain Aaron Ramsey says he stands by his comments criticising the Football Association of Wales over its handling of the search for a new boss.
The Arsenal star says the players are unhappy they have not been consulted over Gary Speed's successor.
Ramsey tweeted: "We have just lost our manager and leader through a tragedy and not footballing reasons.
"For that reason I would have thought they [the FAW] would have contacted the players to hear what we thought."
But the BBC understands the FAW are surprised by Ramsey's comments and that a member of the six-man selection panel, set up to choose Speed's successor, had already spoken to the captain about the process.
Ramsey and other senior players, including Tottenham's Gareth Bale, are keen that assistants Raymond Verheijen and Osian Roberts remain in their posts.
Continuing his tweet, Ramsey added: "[That] would be the best way forward to continue our recent success on the pitch, in which we have been building for the World Cup qualifiers for the last 11 months with a clear view.
"With regards to being badly advised in my comments I am a grown man and captain of my country, to which I care deeply about the future of Welsh football.
"I wasn't advised by anyone and nor would I need to be. I gave an honest answer to a specific question and everything I said was done with my best intentions, hence the fact I am willing to stand behind my beliefs and not leave my comments nameless."
Ramsey aired his original frustrations with Welsh football's governing body on the BBC Radio 5 Live Breakfast programme, claiming that no one from the FAW had spoken to him over the coaching issue since Speed's death in November 2011.
Ramsey told the BBC: "Disappointingly, they [the FAW] haven't [contacted me]. Other players haven't been told anything.
"I've heard that other countries have a meeting with some of their players."
"Obviously in the circumstances I would have thought that they [the FAW] would have contacted myself and a few other players to ask about our opinions."
The FAW has assembled a six-man panel, led by president Phil Pritchard, to appoint Speed's replacement.
No discussions have taken place with any potential candidates, according to the FAW, and chief executive Jonathan Ford has said it is "too early" to say whether an appointment will be made before the friendly with Costa Rica in Cardiff on 29 February.
However, on Thursday the Daily Mail newspaper claimed that Chris Coleman is set to be confirmed as Wales coach "later this month".
Coleman has recently resigned from his job in charge of Larissa, citing financial problems at the Greek second division side.
The former Fulham, Real Sociedad and Coventry City boss told the BBC that the timing was "purely coincidental" in relation to Wales' search for a new manager.
Former Wales captain Coleman also said he would be willing to work alongside Verheijen and Roberts if he took over, although former Wales team-mate Iwan Roberts does not believe Coleman is right for the job.
Ramsey says that he wants to safeguard the harmony and confidence in the squad that saw them win four out of their last five games and rise from 113th to 48th in the Fifa world rankings.
"We don't want to be taking a backward step again and having a big change and players not wanting to turn up and play for their country," Ramsey said.
"At the moment everybody wants to play, everybody is reporting for international duty and enjoying themselves.
"It's going to be an interesting time for us and one that we're going to have to put our opinions across to help make the right decisions here.
"Gary brought in a lot of staff and we had a structure there, which we all knew what we had to do.
"We just want as little change as possible; we had great results in the last few games and the team was playing full of confidence.
"The style that he and the staff have shown us, we've adapted to well and we don't want to have a big change again now and have to go through that process again which is just going to set us back."
Ramsey has thrown his full backing behind assistant coaches Roberts and Verheijen, who has said he would like to succeed Speed.
But the 21-year-old Arsenal star said he would not be averse to the likes of Wales greats Ian Rush or Ryan Giggs being appointed head coach, although Manchester United are thought to be against Giggs combining his playing duties with the Wales role.
"I've spoken to a few of the other players about it and they all feel the same as I do and I think we need to keep the staff that we have now," Ramsey said.
"What we have done so far has been really good and we can still build on that, so keeping the same people there is going to be key to our success.
"We don't want a new manager who is going to bring in a whole new staff and things like that, which is going to bring their own style and techniques and then we're going to have to adapt to that.
"I think someone like Ian Rush, who said that he'd just be a figurehead and would support the way we're [playing] right now, maybe that would be a good option.
"I think [Giggs] is very experienced, he's done the majority of things as a player and could offer some great advice to the teams and things.
"I'm not sure what his feelings are, but somebody like that would be a great appointment."