Carlo Ancelotti appointment inspires Parisians to dream
By Matt Spiro
BBC Sport French football writer
Last updated on .From the section Football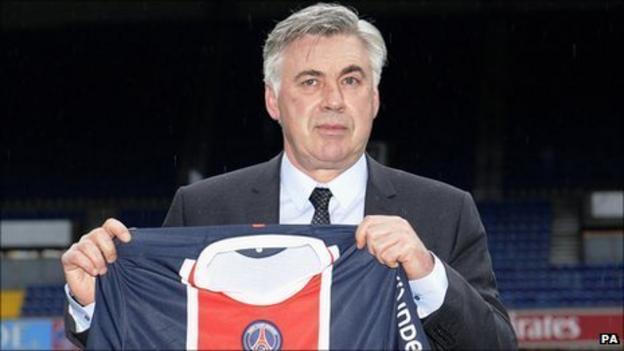 As with Neil Warnock and Steve Bruce in England, there have been a host of coaching casualties in Europe over the past few weeks - but surely none of the victims can be feeling quite as hard done by as Antoine Kombouare.
In his third season at the helm of Paris Saint-Germain, the popular Frenchman had steered the capital outfit to the top of Ligue 1.
That, however, proved insufficient for sporting director Leonardo, who relieved Kombouare of his duties on 22 December - the day after a win at St Etienne - and as his successor eight days later.
The decision to sack the former PSG defender was described as "disgraceful" by the French coaches' union, although nobody in France was especially surprised.
Ever since Qatar Sports Investment completed their takeover of PSG last summer - and subsequently invested over £70m in new players - Kombouare had been living on borrowed time.
"If the Qataris bring in Jose Mourinho or Arsene Wenger, then don't worry, I'll pack my bags," commented Kombouare, only half-jokingly, in August.
Mourinho and Wenger may have resisted the lure of the French capital but Ancelotti belongs in the same category.
By convincing the former AC Milan and Chelsea boss to join him in Paris, Leonardo has unquestionably pulled off an impressive coup.
QSI have set their sights extremely high. Dominating the French scene is, of course, one objective. But PSG's new president Nasser Al-Khelaifi has stressed that competing in the Champions League on a regular basis, and being in a position to win the trophy within three years, should be the ultimate goal.
To have a chance of achieving such lofty targets, QSI and Leonardo decided that a higher-profile manager with more European experience was required.
There has been inevitable sympathy for Kombouare, but few are contesting the logic behind Ancelotti's appointment.
"The decision is understandable," former France and Chelsea defender Frank Leboeuf told BBC Sport.
"From a human point of view it's not nice, but PSG have new objectives now and Ancelotti is somebody who can take the club to the next level. Having Ancelotti will guarantee a certain quality."
The excitement generated by the Italian's unveiling was quickly offset by the news that David Beckham would not be following him.
Ancelotti, however, has been quick to turn his attention elsewhere.
Carlos Tevez, Florent Malouda and Didier Drogba are among those to have been linked with the twice French champions, while the latest reports suggest that Brazilians Pato and Kaka - both of whom played under Ancelotti at Milan - are the new coach's transfer priorities.
Luring world-class talent to Ligue 1 will not be easy, yet journalist Damien Degorre - who works for French sports newspaper L'Equipe - believes Ancelotti's reputation could sway the balance in PSG's favour.
"PSG needed a big-name coach," Degorre told BBC Sport.
"Top players tend to be reticent about coming to PSG, who haven't been in the Champions League since 2004-05, but Ancelotti will make Paris a more attractive destination.
"His aura and status will help PSG get the kind of players the Qataris want."
Even so, the four-times Champions League winner has experienced a difficult start.
Last week's friendly defeat to Milan in the Middle East was followed by a nerve-wracking 2-1 victory over amateur club Locmine in the French Cup on Sunday, and the players are struggling to adapt to the new 4-3-2-1 formation.
But significant progress has at least been made off the pitch.
Ancelotti's French has already improved to such an extent that he is conducting his news conferences in the language.
Meanwhile the players are relishing training with the 52-year-old and his two newly appointed assistants - former Chelsea midfielder Claude Makelele and Englishman Paul Clement - who Ancelotti worked with at Stamford Bridge.
"The players are happy to be working with him," Degorre added. "There's a buzz of excitement.
"Some of the older guys like Sylvain Armand, Zoumana Camara and Nene didn't think they would ever get the chance to play for a coach of Ancelotti's stature."
Not that everybody is thrilled with recent developments.
Former St Etienne and PSG midfielder Jean-Michel Larque has accused the Qatari owners of disrespecting the club's tradition by dismissing Kombouare, who was part of the 1994 title-winning team, and by hinting that they may one day leave the cherished Parc des Princes stadium.
"PSG are owned by Qataris and run by a Brazilian and an Italian," Larque told French radio station RMC. "They've kicked out a legendary player who'd taken them to the top of the league as coach. They've said the Parc des Princes is obsolete. For me, PSG are dead."
The modern PSG is certainly not to everybody's taste.
Many are uncomfortable with the idea of millions being pumped into football at a time of economic crisis. Others regret that a club once renowned for its noisy, passionate following has been transformed into a global business with a more sanitised, family orientated public.
But Leboeuf insists French fans simply need to accept that times have changed.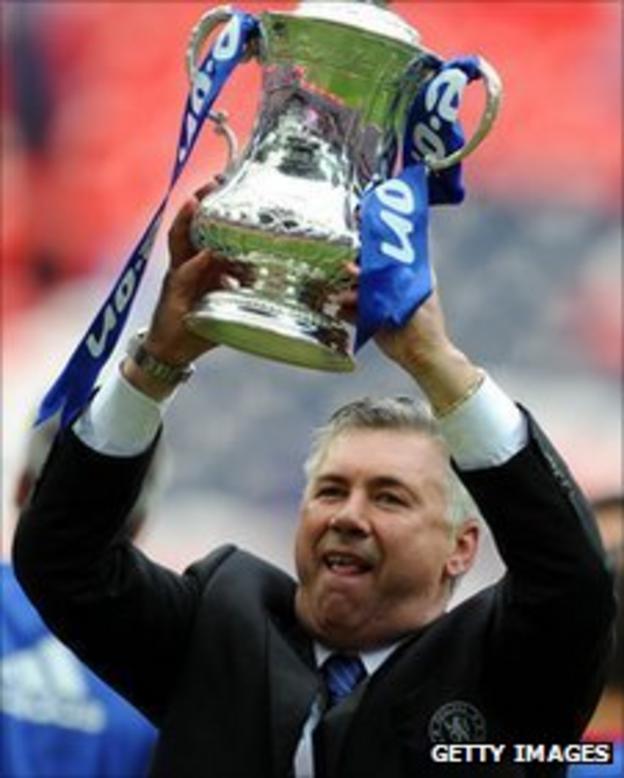 "We have to stop being naive and living in the past," the 1998 World Cup winner said. "Football has changed dramatically. When I left Chelsea in 2005, they were run like a family club. Now they're a big business.
"Chelsea are a global machine and PSG are trying to become a global machine. The fact is that money talks in football nowadays.
"People should just be happy that the Qataris have decided to invest their money in France."
But will the Qatari money be enough to bring Champions League glory?
"I don't think so," Leboeuf said. "With the legislation we have in place here, it's impossible for French clubs to compete financially with the biggest in Europe.
"But we can all dream. It's the only thing left that's free in this world."
With Ancelotti on board, the dream no longer seems quite so far-fetched.