Botswana players give up strike action over bonus row
By Mtokozisi Dube
BBC Sport, Gaborone
Last updated on .From the section Football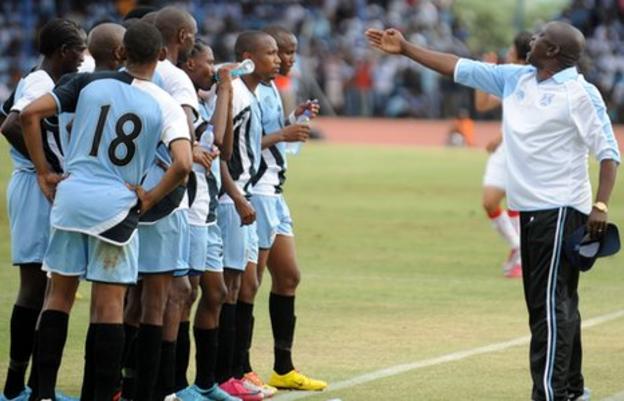 Botswana's players have called off their strike action after being told there was no more money available for Africa Cup of Nations bonus payments.
The country's president had also called on the team to "put the nation's interest" ahead of their own.
The team had refused to train ahead of a planned friendly with Zimbabwe, but the game eventually went ahead.
Meanwhile coach Stanley Tshosane has included injured captain Mompathi Thuma in his final squad for the Nations Cup.
The squad had asked for payments of more than US$13,000 for each player on the trip and for additional cash depending on how far they get in the tournament.
But Botswana's Football Association (BFA) stood firm, saying it could not afford to pay the extra demands of the players.
"It's disappointing that at the last minute before we travel, players are still uncertain about the bonues," Botswana's best know player, Dipsy Selolwane told the BBC.
"As much as [we were asking for] a small amount of money, they should be able to manage it without blinking but that proposal was turned down and we were given an ultimatum that either we stay or we go home.
"So we feel that we were not treated right."
The BFA had already been late in paying the regular daily allowances but the squad has been promised they will be paid on Monday.
"This was a sad situation but I am happy because we have overcome it," coach Stanley Tshosane told the BBC.
"I spoke to the guys and the BFA spoke to the guys and we have agreed that the only way now is to move forward."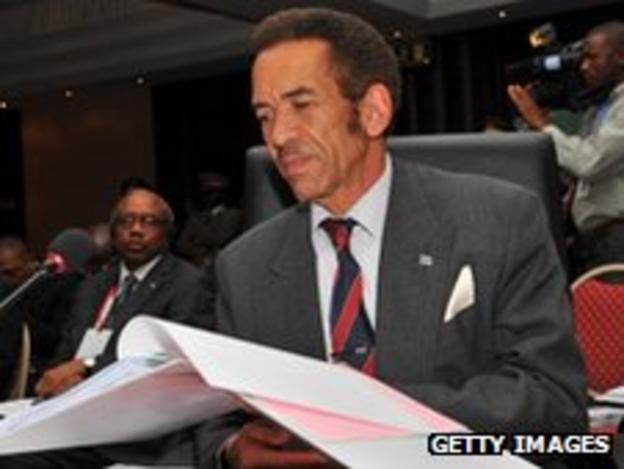 Botswana's President Ian Khama was present at the team dinner which took place on Sunday evening and, without referring specifically to the planned strike action, urged the players "to put the nation's interests ahead of their own".
Coach Tshosane has sprung a couple of surprises in his final squad for the tournament - leaving out last year's Botswana player of the year Sekhana Koko because an injury has prevented him from training but including captain Mompathi Thuma, who has been in the same situation.
Botswana squad:
Goalkeepers: Modiri Marumo (Bay United, South Africa), Noah Maposa (Gaborone United), Kabelo Dambe (Rollers)
Defenders: Mompathi Thuma (BDF XI), Ndiyapo Letsholathebe (Police XI), Musa Ohilwe (Gaborone United), Mosimanegape Ramohibidu (BMC), Monametsi Kelebale (NICO), Tshepo Motlhabankwe (Mochudi Centre Chiefs)
Midfielders: Mogogi Gabonamong (SuperSport United, South Africa), Joel Mogorosi, Pontsho Moloi, Othusitse Pilane (all Mochudi Centre Chiefs), Boitumelo Mafoko (Cape Town Santos, South Africa) Ofentse Nato (Gaborone United), Phenyo Mongala (Bloemfontein Celtic, South Africa), Patrick Motsepe, Tshireletso (BDF XI), Mogakolodi Ngele (Rollers)
Strikers: Jerome Ramatlhakwane (Unattached), Diphetogo Selolwane (SuperSport, South Africa), Onalethata Tshekiso (Rollers), Moemedi Moatlhaping (Bay United, South Africa)