Stadium owners offer funding hope to Darlington
Last updated on .From the section Football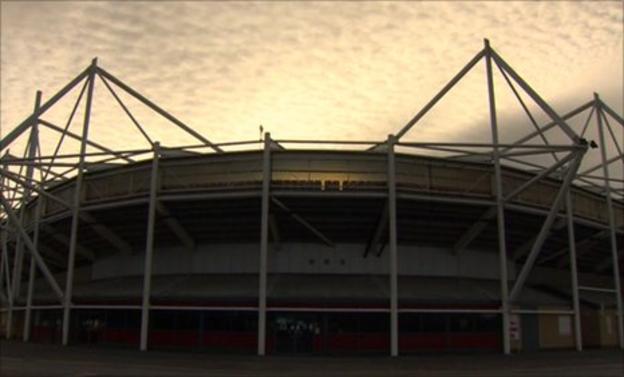 Darlington Arena Limited have offered the supporters trust a donation of £50,000 to help save the club, providing they can find a similar sum.
Stadium owners Philip Scott and Graham Sizer made the gesture to give administrators further time to find a buyer, with the club in administration.
Administrators have warned the club is at risk of liquidation if a buyer cannot be found within the next week.
The club's home fixture with Fleetwood on 23 January is currently at risk.
Negotiations are also to take place to discuss reducing land covenants between the stadium owners, the club and the council.
Covenants currently exist that were placed by the Council when the stadium was built, in return for a reduction in land costs.
Reducing the covenants would open up the possibility of selling the stadium and/or land for non-sporting usage, allowing debts to be met, and the possibility of funding a more manageable venue for the football club.
Darlington moved to the stadium from Feethams, their home for 120 years, in 2003.
But the club lost ownership of it when loan agreements with Scott and Sizer were not met by former chairman George Houghton and eventually the club's holding company, DFC Investments Ltd, went into liquidation.
As major creditors, the pair took control of the stadium and leased it back to the football club on a 'peppercorn rent' of £10,000 a year.
Meanwhile, interim manager Craig Liddle was stunned by the response from supporters at Barrow on Saturday.
Around a thousand supporters travelled to Holker Street for the 3-0 defeat for a match that could be the last in the club's current guise.
"If I give up, then we've got no chance," he told BBC Tees.
"I've got to keep believing, I don't know I speak to the administrators but they, rightly so, keep things close to their chest.
"I hear little snippets that something might be happening but if I'm honest I don't know if there is.
"I'll keep fighting and believing that something is going to go for us."