Oldham thank Liverpool for responding to alleged abuse of Tom Adeyemi
Last updated on .From the section Football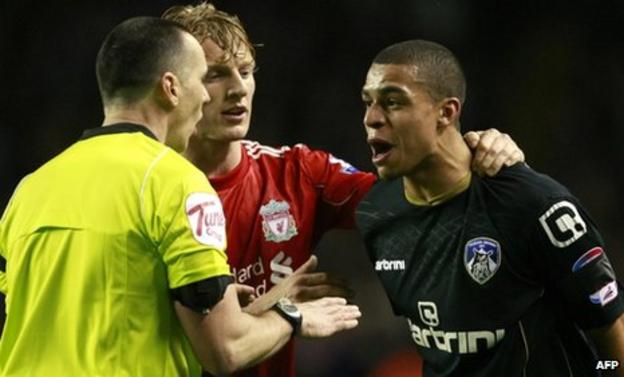 Oldham have thanked Liverpool for their response following the alleged racist abuse of Latics midfielder Tom Adeyemi.
A 20-year-old man from Aintree has been bailed in relation to the case, while Liverpool apologised.
The Oldham statement read: "We would like to thank Liverpool FC and Merseyside Police for their concerns and efforts in investigating the incident involving Tom Adeyemi."
It added: "Excellent communication has been maintained and the club and player have been notified of every detail during the progress of the investigation.
"The professional standards applied throughout have been praiseworthy.
"The club would also like to thank the numerous fans from Liverpool and Oldham, and also those from around the country, who have sent letters of support to Tom.
"This type of incident is contained within a minority and should not deflect from a superb match that was enjoyed by both sets of club officials and fans.
"We wish Liverpool every success in the next round of the cup."
A Liverpool statement released at the end of last week read: "The players and club pass on our sincere regrets to Tom Adeyemi for the upset and distress he suffered.
"Our supporters are renowned throughout the world for their outstanding commitment, passion and fairness. They are drawn from nationalities across the globe with widely diverse backgrounds and heritages.
"The actions of any one individual do not represent our fans. Their stance on these issues is just as resolute as the club's.
"We have a very clearly stated public stance on discrimination and intolerance with dedicated staff that work hard daily on programmes in this important area.
"Regarding the incident that occurred on Friday evening, we have given Merseyside police every possible assistance we can and will continue to provide the necessary support to their investigation in order to ensure this particular incident is dealt with properly.
"We will continue to take the strongest possible action(s) against unacceptable behaviour during our matches."
The Premier League club have promised to ban from Anfield for life anyone found guilty of an offence related to the incident.
It has been a difficult few weeks for the Anfield club, who have seen striker Luis Suarez banned for eight matches for racially abusing Manchester United's Patrice Evra.