Wayne Rooney media frenzy reminiscent of Paul Gascoigne - Ferguson
Last updated on .From the section Football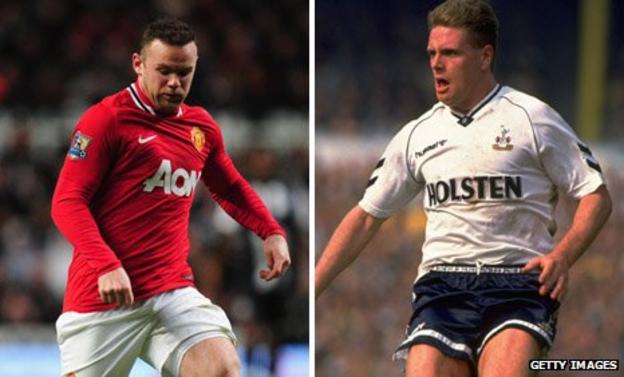 Sir Alex Ferguson compared Wayne Rooney to Paul Gascoigne in the wake of a thrilling FA Cup victory at Manchester City, insisting every flaw in his character will be used against him.
Like Rooney, ex-England and Tottenham star Gascoigne endured a turbulent career in the media spotlight.
"Wayne Rooney is a headline-maker, good or bad," said Ferguson.
"It is the situation that existed years ago with Paul Gascoigne. Any flaws will be annihilated by the press."
Talented midfielder Gascoigne was considered the best player of his generation, but his career was scarred by a series of tabloid scandals - leading to claims he did not always enjoy the success his talent deserved.
The weekend had started with Rooney and the club forced to issue a joint statement denying that relations between them had deteriorated to the point where he might be sold in the current transfer window.
But it ended with the England striker a two-goal hero in United's 3-2 FA Cup triumph over 10-man City at the Etihad Stadium.
After the final whistle, Rooney insisted he will remain with United "for a long time" and Ferguson said he had no issue with the 26-year-old other than the fact his status in the game will always attract negative headlines.
"There is no problem with the boy's temperament at all," Ferguson added.
"It is just off the field he is going to be spotlighted all the time.
"We have seen the good stuff today but any flaws will be absolutely annihilated by the press. That is what they are like. That is what we are dealing with.
"Today was a magnificent performance."
Reports of problems between Ferguson and Rooney first surfaced in October 2010, when Rooney requested a transfer while publicly questioning United's ambition before agreeing to a new five-year contract two days later.
Then at the end of 2011, the striker was disciplined over his performance in training immediately after a Boxing Day night out and dropped for the shock 3-2 Old Trafford defeat to Blackburn.
Relations between the two still appeared frosty when Rooney was substituted during a disappointing display in United's 3-0 defeat at Newcastle, but seem to be back on course after a morale-boosting victory over City.