Luis Suarez case: Powar fears bad example set to supporters
Last updated on .From the section Football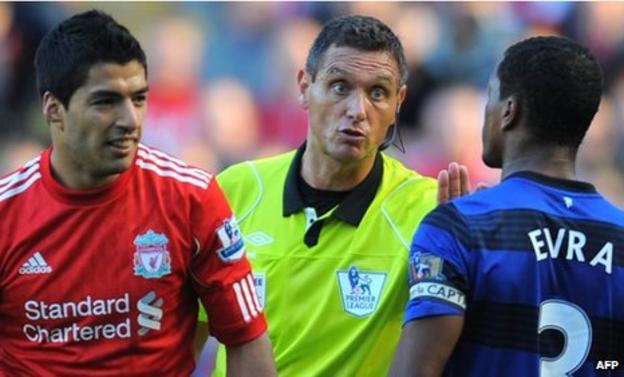 The head of European football's anti-racism group has described Liverpool's treatment of the Football Association over the Luis Suarez affair as "beyond the pale".
Piara Powar, executive director of Football Against Racism in Europe (Fare), believes the club's defence of their striker has set a bad example.
Powar said: "It is a constant undermining of the FA's role.
"The way Liverpool have dealt with this has disconcerted many observers."
Speaking to BBC Radio 5 live's Sportsweek, he added: "The environment at Anfield is so driven - in terms of the paranoia that some fans feel - by expressions of injustice from Liverpool, especially over the last few weeks."
Suarez was found guilty of racially abusing Manchester United defender Patrice Evra by an FA-appointed independent regulatory commission last month, and is currently serving an eight-match ban.
Powar has previously criticised Liverpool for their response to the Suarez affair, even calling on the FA to charge the club and manager Kenny Dalglish with bringing the game into disrepute.
He renewed his criticism, adding: "If you look at the comments Dalglish has been making, if you look at how Liverpool resort to defending what they see as an injustice, look at the way their fans have been whipped up into a tribal fervour.
"Some of the words being used to describe the FA and its role in governance on these sort of issues, that is really beyond the pale."
Powar is also concerned about the abuse aimed at footballers on social networking websites, which he attributed to "the way in which fans feel they can get on something like Twitter and make comments without accountability".
He added: "There is nobody touching them on their shoulder looking at their comments and saying, 'No, that is not what is acceptable'."
Lord Ouseley, chairman of the Kick It Out anti-racism campaign, has also previously labelled Liverpool "hypocritical" over their handling of Suarez affair.
It is understood that the FA has no plans to charge either Liverpool or Dalglish.