Wrexham hope for FA Cup replay giantkilling of Brighton
Last updated on .From the section Football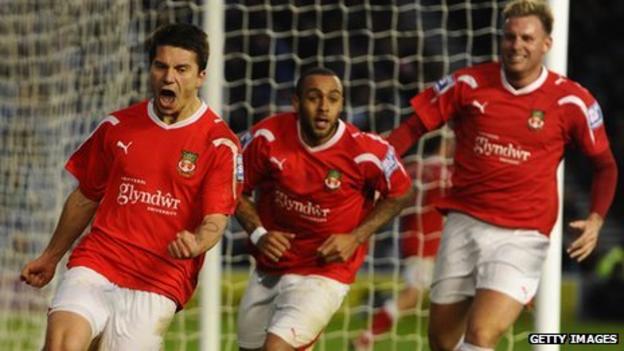 Adrian Cieslewicz has challenged his team-mates to create another Wrexham FA Cup upset at The Racecourse and shock Brighton in their third round replay.
Wrexham are the only non-league team left in the competition thanks to the winger's 62nd minute leveller in the 1-1 draw against the Championship side.
Cieslewicz hopes they can cause another shock 20 years on from Wrexham's most famous giantkilling of Arsenall.
"We've had a few FA Cup shocks at the Racecourse before," said Cieslewicz .
"So you never know. Hopefully we can create some of our own history in the replay."
Andy Morrell's Dragons earned a replay on Tuesday, 17 January and Wrexham are Brighton are ball number 13 in Sunday's .
The Blue Square Bet Premier leaders are confident having lost just once in their last 20 games and the club are synonymous with FA Cup upsets as the lower league team have made it as far as the quarter finals on three occasions in 1974, 1978 and 1997.
The Welsh club also shocked top-flight opponents in 1977 and 1995 as Wrexham beat Sunderland and Ipswich Town respectively.
The Racecourse side also took a fourth round lead against Manchester United at Old Trafford in 1995 before Sir Alex Ferguson's men fought back to win 5-2.
But Wrexham's 1992 third round triumph over reigning league champions Arsenal is one of the greatest shocks in the history of the FA Cup.
Mickey Thomas and Steve Watkin scored as the then fourth division division fought back from a goal down to beat a team full of international players.
And defender Mark Creighton believes Wrexham have a realistic opportunity of progressing to the fourth round for the first time since 2000 when the sides meet again at The Racecourse.
"It will definitely be rocking," he said.
"Our fans are awesome, especially at our place."
Wrexham have already banked £57,500 from this FA Cup run and the club could earn another £67,500 by qualifying for the fourth round.
Creighton hailed the "absolutely out of this world" Wrexham travelling support of more than 2,000 at Brighton.
And now the 30-year-old hopes for a Racecourse full house in the replay, not just to cheer on Wrexham but be a much-needed financial boost for a club now owned by .
"With the financial position at the club at the moment, to take them back to our place is going to help the club," he said.
Jake Forster-Caskey had given Brighton an early second half lead at the Amex Stadium on Saturday before Cieslewicz equalised to secure a replay.
"I think we'll have probably surprised quite a few people," said Creighton.
"I don't think they will have expected us to come here and pass the ball like we did."