Manchester United still the best, says City boss Roberto Mancini
Last updated on .From the section Football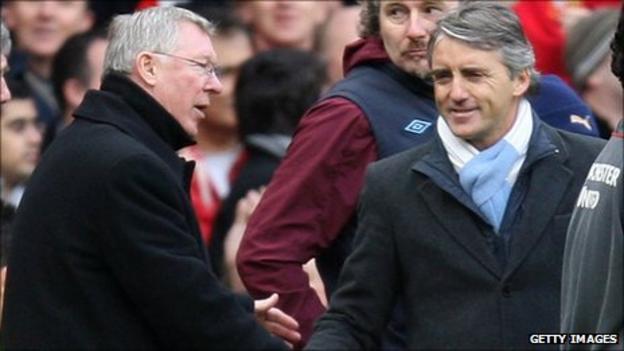 Manchester City manager Roberto Mancini has claimed that rivals Manchester United are still the team to beat.
The sides meet in the FA Cup third round on Sunday, while City hold a three-point advantage over their rivals at the top of the Premier League.
United have suffered two successive league defeats in the last week, but Mancini said: "If you want my opinion, United are the best team in England.
"They have a strong team with a strong mentality and they are at the top."
United boss Alex Ferguson has played down the significance of "two bad results" ahead of the derby at the Etihad Stadium, and Mancini also refuted suggestions that City's neighbours are on the slide.
City ended their 35-year trophy drought when they last season, but the Italian believes it will take many years before they can be called the best in England - even if they win the Premier League this year.
"We can't be like [United] in two years; they have had this mentality for 25 years," Mancini said.
"We can improve if we continue to win - if we win the championship or other cups. We started it last season. But in two years it is impossible."
Having beaten United in the FA Cup semi-final last year and 6-1 at Old Trafford in the league earlier this campaign, City are chasing a hat-trick of derby victories for the first time since 1969.
"It was important to beat them in the semi-final last year and it was important to beat them at Old Trafford," Mancini added.
"It was not the 6-1; they played for 40 minutes with 10 players, which is very difficult. It was important because it was a good performance."
Despite seeing United concede six goals in losing to and Newcastle, Ferguson is confident his side will recover during the second half of the season.
"Questions have been asked about us at the moment," he said.
"Only a couple of weeks ago everyone was talking about how important our experience was going to be in the run-in. And I think it will be."