Liverpool investigate abuse aimed at Oldham's Tom Adeyemi
Last updated on .From the section Football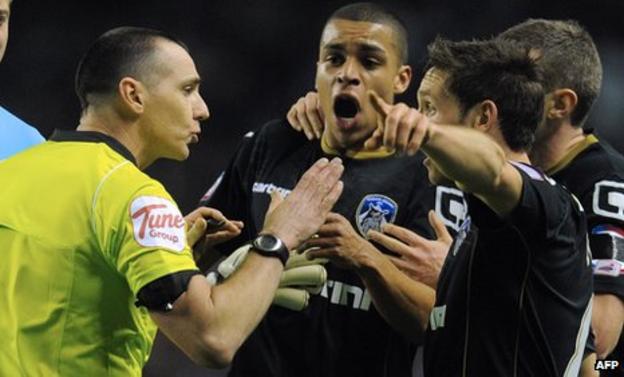 Liverpool and Merseyside Police are investigating an incident of alleged abuse from fans towards Oldham Athletic defender Tom Adeyemi.
The game was stopped briefly while Adeyemi alerted referee Neil Swarbrick to the incident.
However, Merseyside Police confirmed that no arrests were made for "racially aggravated behaviour".
On Saturday evening, Liverpool issued a further statement, saying: "Liverpool Football Club continue to work closely with Merseyside Police to establish all the facts surrounding the incident that occurred during last night's game.
"We take this matter extremely seriously and have today provided the police with the evidence we currently have available to us.
"This includes CCTV coverage and still photography of what we believe to be the relevant part of the stadium, statements from match-day stewards in that area and full access to all the footage captured by the cameras filming the match for our in-house TV operation.
"In addition, we have examined records of the tickets purchased in that part of the ground to see if they provide any additional information and have passed that on to the police.
"Finally, we would also urge any of our supporters who witnessed this incident or saw the individual involved and who have not already done so, to contact either the club or the police."
Oldham captain Dean Furman urged authorities to take "heavy action" against fans found to be abusive.
"He was abused and I'll leave it to Tom and the police to investigate that," said Furman. "What happened should not happen in the game.
"It has been highlighted over the last few months and it is an absolute disgrace."
Oldham manager Paul Dickov revealed he had not spoken to Adeyemi, who is on loan from Norwich, about the incident after the match, but accepted something had upset him.
"From my point of view I have not spoken to Tom about it but I know the kid and something has been said," said Dickov.
"He is a placid boy, a kid who has been well educated with a fantastic temperament and has been with us since the end of August and I've never seen him raise his voice.
"For him to react like that it is obvious something has been said but what has been said I don't know because I've not had a chance to ask - I was too busy praising my players.
"He is fine now. He has calmed down. He is a laid-back kid who just gets on with business.
"Our players went and calmed him down and the Liverpool players did as well, which was fantastic and is why they are top professionals."
The incident involving Adeyemi compounds a difficult few weeks for Liverpool, who were without Luis Suarez for the match against the Latics as the striker serves an eight-match ban for racially abusing Manchester United defender Patrice Evra at Anfield in October.