Football Association defends disciplinary system
Last updated on .From the section Football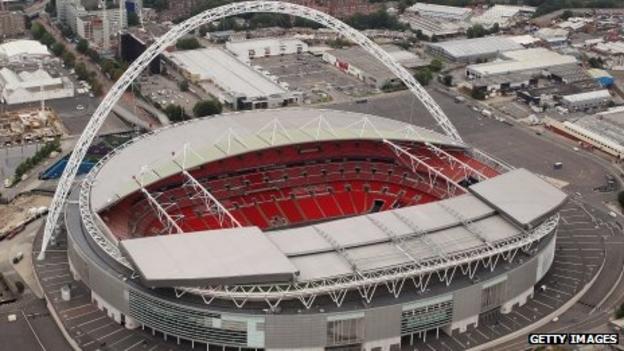 The Football Association has defended its near perfect record in disciplinary cases last year involving clubs, players or managers.
Its Independent Regulatory Commission heard 473 cases between December 2010 and December 2011, but only two of them ended in "not guilty" verdicts.
The FA's disciplinary system has been in focus after it for racially abusing Manchester United's Patrice Evra.
An FA spokesman said: "The FA only pursues cases if there is a case to answer. We must remember we are ruling on sporting merit. Let's make this clear - we're not sending people to prison."
There have been a number of high-profile cases over the last year.
Former Liverpool forward Ryan Babel was fined £10,000 by the FA for posting a mocked-up picture of referee Howard Webb wearing a Man Utd shirt on Twitter.
QPR were also fined £875,000 after being found guilty of two of the seven charges against them relating to the ownership of Argentine midfielder Alejandro Faurlin.
However, Stuart Gilhooly, a leading football solicitor, described the 99.5% "conviction" rate as "extraordinary".
With none of those 471 cases being overturned on appeal, he said the FA's system needed urgent review.
"A body with that sort of conviction rate needs to look at its procedures," said Gilhooly, a legal representative for the Professional Footballers' Association of Ireland who has worked on a number of key cases for the Football Association of Ireland.
"It is as if you are guilty until proven innocent and that is not in the interests of justice."
By way of comparison, Crown Court conviction rates were just over 80% in 2009.
"The comparison with the public criminal law system is unfortunate, as we are not comparing apples with apples - they are fundamentally different," said the FA spokesman.
Another sports lawyer, who preferred not be named, described the FA as "police, judge and jury all rolled into one".
He added: "Your chances of success before them, Uefa and Fifa are virtually nil.
"I seldom advise clients to have a personal hearing. Sentences can be extended almost without limitation."
After banning Suarez for eight games and fining him £40,000, the FA published a 115-page report into the findings of its independent commission.
Liverpool decided not to appeal against Suarez's ban, but issued a statement saying it was their "strongly held conviction... that the Football Association and the panel it selected constructed a highly subjective case... based on an accusation that was ultimately unsubstantiated".
Those 471 cases do not take into account wrongful dismissal claims, such as recent red cards involving QPR midfielder Barton, Wigan forward Conor Sammon and Wolves midfielder Nenad Milijas.
The FA point out that there were 50 claims for wrongful dismissals from the Conference National upwards during 2011, with 14 of those red cards overturned.
However, the governing body's disciplinary process has been criticised by QPR manager Neil Warnock after the FA dismissed the appeal to overturn his recent red card against Norwich.
Ex-referees and Dermot Gallagher both questioned Barton's dismissal.
"I'm surprised that the figure [99.5%] is so high," said Liz Ellen, a lawyer for London-based solicitors Mishcon de Reya.
"There must be a large number of potentially provable cases [that may end in a guilty verdict] not being pursued if the FA's criteria for advancing a case is producing an almost perfect record."
The statistics also do not take into account the 'no further action' cases the FA has reviewed.
"I'd estimate we look at thousands of cases in a year that we don't take any action over," added the FA spokesman.
"The counter argument is that, if we were bringing charges but not being successful in doing so, that we are wasting people's valuable time, wasting the game's money and not doing our job properly."
After the new year fixtures the FA looked at Warnock's and Barton's media comments following the latter's sending-off against Norwich - as well as Arsenal manager against Fulham. It took no action in all instances.
The FA's disciplinary panels are made up of three people - a chairman from the FA's panel, someone else who has played or managed within the professional game, and a third person from the FA Council, who has considerable experience in the game.
In the Suarez case, the FA used one of the country's leading criminal lawyers, Paul Greaney QC, with assistance from Dario Giovanelli of the FA. The chairman of the Sheffield & Hallamshire FA Brian Jones and former Sunderland manager Denis Smith were also on the panel.
But Gilhooly questioned whether the FA's appointment system created "fairness".
"I'm never happy where a body is appointing the judge and the prosecutor. You never see that in a court environment," said Gilhooly, who is a self-confessed Liverpool fan.
Despite the FA's high conviction rate, Ellen urged clubs not to be deterred from challenging charges.
She added: "Even where a charge is proven there is a wide range of sanctions available to the disciplinary panel.
"Therefore, where they feel aggrieved, clubs, players and managers should take the opportunity to put their case forward as this could reduce the sanction from a fine or suspension down to a warning as to future conduct."