Andre Villas-Boas denies Chelsea unrest after Lampard seals win
Last updated on .From the section Football
Chelsea boss Andre Villas-Boas insists there is no rift between the players and management at Stamford Bridge.
Villas-Boas said the show of togetherness following the opening goal from Ramires proved that talk of unrest was wide of the mark.
"It signifies that everyone is united in the objectives," he said.
"The team unity and team spirit is fantastic and it is much more important than individual spirit.
"It is important for the team to continue to produce for each other, no matter who scores."
Chelsea moved up to fourth spot and stayed there following Arsenal's loss to Fulham in the evening kick-off.
Lampard celebrated his recall to the starting line-up by turning home Ashley Cole's cross with two minutes remaining to end a run of four games without a win.
Afterwards, the midfielder admitted he could have been red-carded for a sliding first-half challenge on Wolves winger Adam Hammill.
"My heart was in my mouth over that challenge, I have to admit that," said Lampard, who was only booked by referee Peter Walton. "There was no malice - and I honestly mean that - but I was late and I might have been a bit lucky to stay on the pitch.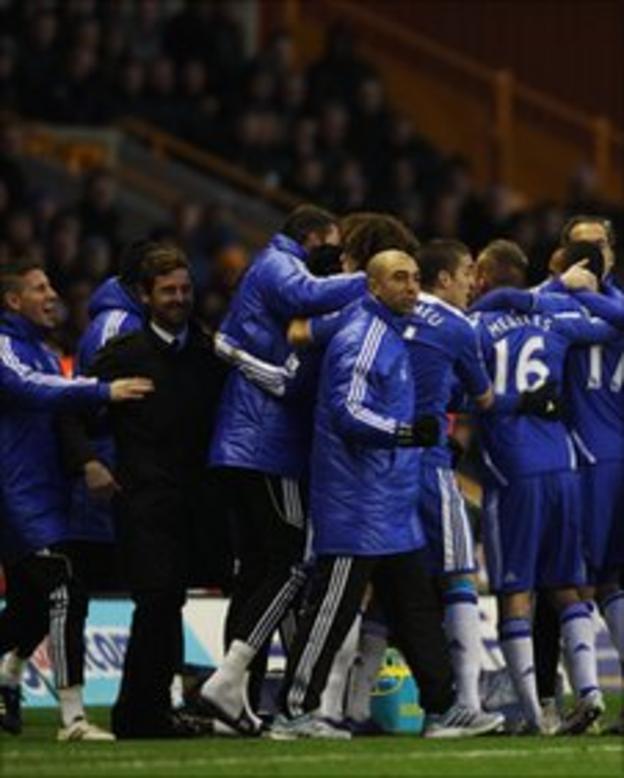 "I said straight away to Hammill that I was very sorry. I was trying to get my foot in and I was maybe lucky."
Wolves boss Mick McCarthy shied away from saying Lampard deserved a red card.
"I don't want anybody else's players sent off but you know my beef with the authorities because of Nenad Milijas being sent off.
"I'd have to see it again. Someone said it was [a sending-off] but I'm not interested in that."
Chelsea finished 2011 fifth following the demoralising New Year's Eve home defeat against Aston Villa.
"We were frustrated to end 2011 the way we ended it," Villas-Boas said. "It is fair to say if December had gone well we would be still fighting for the league. I think we still are but we have to show that progress weekend after weekend.
"We found great strength of character and put on a good performance.
"It is normal to receive criticism but we will continue with our job. We know we have to do a better job and improving our league position is our target - but it doesn't mean that every time we get a bad result people start speculating [about] things that don't happen."
Meanwhile, McCarthy was furious with his side's failure to secure a point after drawing level after 84 minutes.
"I'm livid and disgusted," he said.
"I should be talking about a well-earned point. We've given it away. Frank Lampard should not have been unmarked. We should have had a 1-1 draw.
"Maybe we could have nicked a goal at the end but we have left them off the hook and I am sick.
"I get sick of talking about our spirit. Let's get points and talk about a well-earned point and not back-handed praise for getting back in the game and my team running about, which is a prerequisite."