Gary Ablett, former Liverpool & Everton defender, dies at 46
Last updated on .From the section Football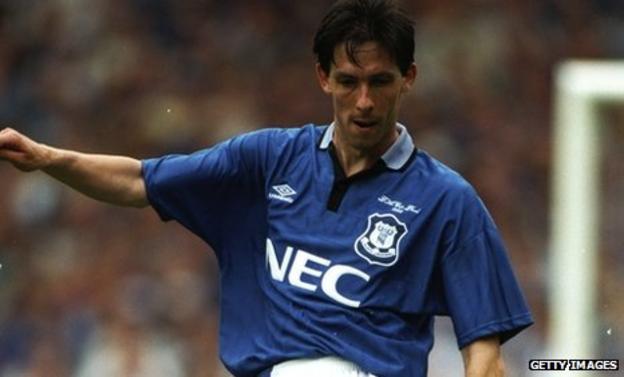 Gary Ablett, the only player to win the FA Cup with both Liverpool and Everton, has died at the age of 46 following a battle against non-Hodgkin's lymphoma.
The defender played more than 100 games for both Merseyside clubs and Birmingham. He also managed Stockport.
Liverpool manager Kenny Dalglish said: "The most important thing is to pay our respects to Gary, his wife Jacqueline, the two boys and his wee girl.
"It's a sad day for his family and everyone connected with Liverpool FC."
Having joined Liverpool as an apprentice in 1982, Ablett made his debut in December 1986.
Under manager Dalglish, in his first spell in charge of the Anfield club, he helped a dominant Reds win the League title in 1988 and 1990 and the FA Cup in 1989.
He was sold to arch-rivals Everton for £750,000 in January 1992 and went on to lift the FA Cup with them in 1995.
After a loan spell at Sheffield United, he joined Birmingham in 1996 and went on to make 104 appearances there.
After short spells at Wycombe and Blackpool, Ablett finished his playing career at Long Island Rough Riders in the American A-League in 2001.
In 2002, he moved into coaching, working with Everton's youth academy until 2006 when he took over as Liverpool reserve team coach.
He became Stockport manager in July 2009 but endured a difficult season as the club, crippled by financial administration, were relegated to League Two.
Ablett left in June 2010 when the 2015 Group took ownership of the club and was coaching at Ipswich Town when he fell ill.
Ablett had been fighting non-Hodgkin's lymphoma, a form of blood cancer, for 16 months.
Last year, he gave his backing to Blue September, a campaign to raise awareness of forms of cancer specifically affecting men.
In an interview with the Everton website, he described the shock of being diagnosed.
"I thought it can't be me, it just can't," he said. "I felt so strong - I had played for the best two teams in the world, coached for the best two teams in the world. It can't be me. But unfortunately it was."
He added: "If you feel anything, you need to get it checked out. I've done it previously in the past when I had cancer in my toe.
"Get it checked, don't mess around. Don't ever think it can't be you because it could be. Cancer doesn't discriminate - it can attack anyone at any time."
Ablett's three main clubs - Liverpool, Everton and Birmingham - all carried tributes to their former player on their websites, offering their condolences to his family.
The League Managers' Association also recognised the former Stockport boss.
"Respected throughout the game by players, coaches and managers alike, Gary will be sadly missed," an LMA statement said.