Wolves midfielder Nenad Milijas loses red card appeal
Last updated on .From the section Football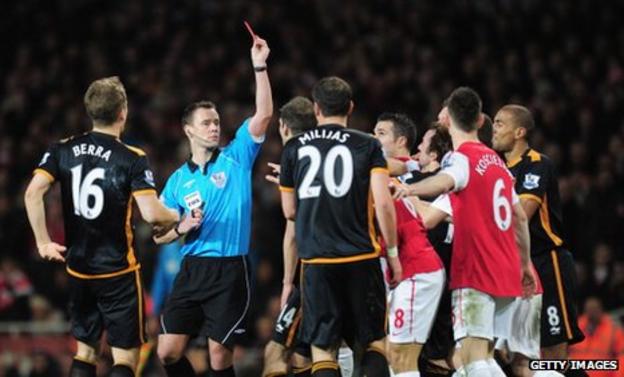 Wolves midfielder Nenad Milijas has lost his appeal against the red card he received in the 1-1 draw at Arsenal.
The midfielder was dismissed 15 minutes from time for a challenge on Mikel Arteta which boss Mick McCarthy described as a "great tackle".
The FA upheld the red card shown by referee Stuart Attwell and Milijas will now serve a three-game ban.
"We are hugely disappointed with today's ruling," said Wolves club secretary Richard Skirrow.
"From the video evidence of that challenge alone, we strongly believed we had very good grounds for appeal and this was an opinion that seemed to be shared by a lot of people who have viewed the incident.
"Our view that the dismissal and three-match ban would be hugely disproportionate to the alleged offence was further reinforced by other incidents in the game.
"However, despite highlighting the inconsistency and harshness of Nenad's dismissal, we have been told that it was not deemed to be an obvious and serious error and, therefore, the original decision and resulting punishment stands."
Skirrow added: "In our view it was certainly not serious foul play.
"Prior to Tuesday, Nenad had also only six cautions in English football and no suspensions.
"Likewise, as a club, we are not serial appealers of red cards.
"In fact, on further reflection, 'disappointed' doesn't seem to do justice to the feelings of everyone at the club on hearing this decision."
Speaking after the game McCarthy said: "His foot was on the floor when he made contact with the ball and I can't work out which bit of that makes it a bad tackle.
"What concerns me is [that] we are being targeted as this dirty team but Milijas has not got a bad bone in his body."
Milijas will miss the Premier League matches with Bolton and Chelsea and the FA Cup third round tie with Birmingham City at St Andrew's.
He has made 13 appearances in all competitions so far this season, scoring twice in the Carling Cup.
The news is a further blow for McCarthy who is already without fellow midfielder Jamie O'Hara who was ruled out for a month after undergoing surgery on a double hernia.