Festive schedule annoys Swansea City manager Brendan Rodgers
Last updated on .From the section Football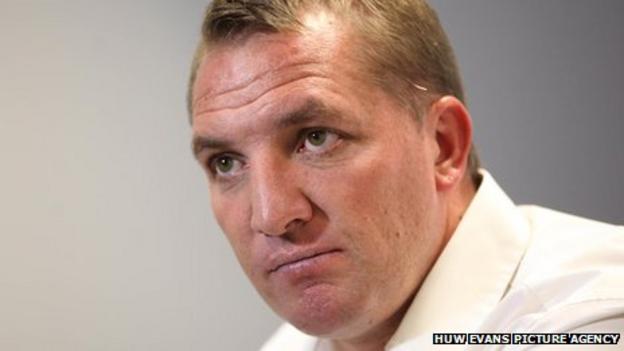 Swansea City manager Brendan Rodgers has voiced displeasure at his side's Premier League schedule over Christmas and new year.
The Liberty Stadium club face four games in 12 days over the festive period and Rodgers is far from happy at his side's itinerary.
"The people who put fixtures together do not have a clue about physical conditioning," said Rodgers.
"It's not ideal but it's the same for everyone else."
Swansea kick-off a busy schedule against Everton at Goodison Park on Wednesday before hosting QPR on 27 December.
They then face Tottenham at the Liberty Stadium on 31 December and travel to face Aston Villa just two days later.
"Football is a great tradition in Britain at this time of the year," added Rodgers. "It's great and fantastic for supporters to have such a number of games.
"But if you look from a professional perspective, players have peaks themselves and they have not recovered from the exertions of the previous game.
"If we are having a normal recovery period from a game on a Saturday, the Sunday would be the first day of recovery and then the players really feel the effects of a game on the Monday, so they have a second day of recovery.
"They don't properly come back up to speed until the Tuesday because of the tempo of the modern game.
"So for us on what would normally be a second day of recovery after we play Tottenham, we have to go and play another [game] full on, high-tempo Premier League at Aston Villa."
A number of managers, including Arsenal boss Arsene Wenger, have advocated a winter break, but Rodgers is against such a radical plan.
"I don't think we need a winter break, but we don't need the Monday game," he said.
"They should play that game on the Tuesday or Wednesday or extend the season by a week. Or we could have a midweek game somewhere else in the season.
"I can understand the New Year's Eve game but is there a need for the Monday game? I don't think there is. It's ridiculous."
Swansea begin their busy festive schedule at Everton on Wednesday after securing their third away point of the season at Newcastle last Saturday.
Rodgers may choose to bring full-back Angel Rangel into his side for the game at Goodison Park.
Rangel was expected to be out for up to a month after suffering the injury against Aston Villa at the end of November.
But the Spaniard has made a speedy recovery from his ankle injury and could be set to return although winger Nathan Dyer is out with a foot problem.