Manchester United could be handed Champions League place
Last updated on .From the section Football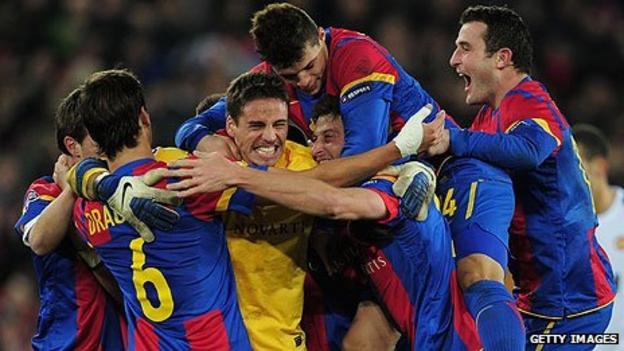 Manchester United could return to this season's Champions League if the Swiss Football Association fails to comply with Fifa and punish FC Sion.
The Swiss FA has until 13 January to act and Fifa has threatened to suspend Switzerland and their club sides.
If the ban took effect, FC Basel would be ejected from the Champions League and United could be reinstated.
The Swiss champions knocked Sir Alex Ferguson's side out of European football's elite competition and into the Europa League, earning a 3-3 draw at Old Trafford before winning the home match 2-1.
Sion were put under a transfer embargo over the signing of Egyptian goalkeeper Essam El Hadary, but proceeded to sign six players in the summer.
The six players took their case to a civil court in the canton of Valais, which ruled they could play, and subsequently fielded them in the Swiss league.
Sion then fielded five of the six players during the Europa League play-off tie against Celtic and were kicked out of the competition as a result, with Uefa's decision to expel them upheld by the Court of Arbitration for Sport on Thursday.
Fifa has now ordered the Swiss FA to enforce a ban on registering six Sion players signed during the transfer embargo.
"As a consequence, all matches in which the relevant players participated shall be declared forfeit or three points shall be deducted respectively," Fifa said. "Should this deadline not be respected, the Swiss FA will be automatically suspended from 14 January 2012 onwards."
Under the terms of a Fifa suspension, a country's national and club teams, referees and officials are prohibited from taking part in international matches and meetings, or receive Fifa funding.
Uefa said it was confident the Swiss Football Association would comply with the Fifa request before the January 13 deadline. "Should this not be the case Uefa will review the situation nearer the time," added European football's governing body in a statement.