Do we value women's sport in the UK?
By Jessica Creighton
BBC Sport
Last updated on .From the section Football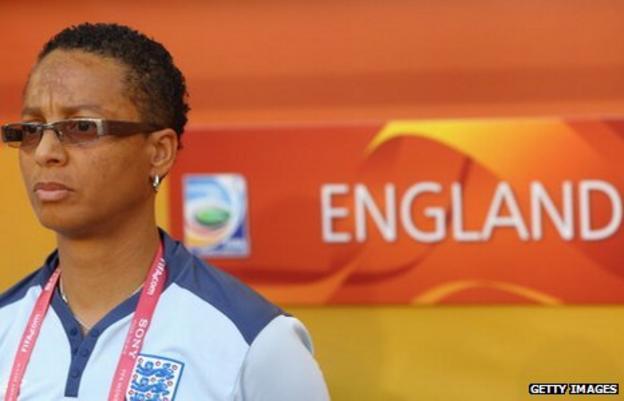 "This annoys me, this subject," says Hope Powell, the coach of the England women's football team, when asked about the lack of media coverage of women's sport in the UK.
"If you look in the press, the focus is on male sport and it's male-dominated. On the telly, it's male-dominated."
In a year when no females were shortlisted for BBC Sports Personality of the Year, women's football has enjoyed unprecedented success.
There was the launch of the Women's Super League (WSL), while England reached the quarter-finals of the biggest ever women's World Cup.
While these made it into the mainstream media, Powell, who has been at the forefront of transforming the women's game in the UK for over a decade, is concerned with the coverage the sport gets between major events.
"We get to a major final and the press are all over it. We get to the World Cup, the press are all over it. And then they disappear," she said.
"We played a European Championship qualifier [against Serbia in November] and nobody knows about it. We get three points, play very well and I don't think it was mentioned in one newspaper.
"The assumption I get is the sports editors assume people don't want to read about women's football."
An unfounded assumption perhaps when more than 1.3m women and girls play football - more than any other sport in the UK.
And there appears to be demand for the women's game.
Sports broadcaster ESPN has doubled the number of live WSL games it will show in 2012 to 10, while it averaged about 60,000 viewers for each match in 2011, on a par with Scottish Premier League games.
But women's football is not alone in being given sporadic media coverage, according to Powell.
"Generally, women's sport gets a raw deal," she said. "As females in sport, not just in football, we're overlooked.
"They [England women] represent their country. They're ambassadors and great role models but I don't think female sport gets the recognition it deserves."
England international Karen Carney, who plies her trade at Birmingham City Ladies in the WSL, has seen first-hand how women's sport lacks mass coverage.
"We train with the England rugby girls, who have won everything possible; women's cricket as well. If you look at their CVs, it says it all. But it's never really been acknowledged and it baffles me a little bit," Carney said.
"The rugby girls are the best in the world and have been for ages, so how they're not credited for that is crazy."
This is no new debate. At many of the major football events involving England, the media will ask whether this is the year the game becomes mainstream.
And the forthcoming Olympic football tournament, which will see a women's team from Great Britain competing for the first time, is likely to be no different.
"Everybody talks about it being the catalyst," said Powell, who will coach GB at London 2012. "We heard this in 2005 [at the European Championships in England] when 27,000 people came to our opening game.
"It's only the catalyst if the hook is taken by the media and they give us some air time and sustain it over a period of time.
"Don't just give it a one-off and see if people want to read about it. I think they do. It's the third largest participation sport in the country so there must be an interest."
Despite their low-key status, the national team have undergone a surge in development in recent years, as Carney has witnessed.
"We've just been moved up to sixth [in the world rankings]. We're improving but we've still got five more places to go," the midfielder said.
"You can't have a good England [team] without a good league. Now that we've got that, hopefully we'll continue progressing."