Gabon boost before the 2012 Africa Cup of Nations
By Durosimi Thomas
BBC Sport
Last updated on .From the section Football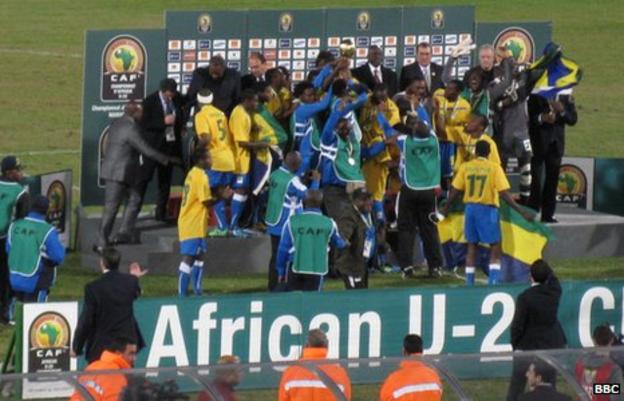 With one month to go before co-hosting the Africa Cup of Nations, Gabon's surprise qualification for the Olympic Games could not have come at a better time.
Sealing a place at the London 2012 Games and annexing their first ever continental title has come as a huge sigh of relief, changing the recent unfriendly headlines in the media.
Only a week ago the whole nation, especially the authorities, was staring through dark clouds of turbulence.
On 30 November the league season was suspended due to lack of funds after only nine weekends of matches played.
The decision was not well received by the government, who viewed the action as abrupt and embarrassing for a country preparing to host Africa's flagship tournament.
It took the personal intervention of president Ali Bongo Ondimba who asked the Gabonese football federation and stakeholders to have a rethink.
The decision has now been reversed and the league is due to resume soon.
That was not all. President Ondimba also fired Jules Marius Ogouebandja, the head of the Nations Cup Organising Committee (Cocan) on 1 December, just 55 days before the tournament kicks off.
It was the second such replacement at Cocan.
Ogouebandja was sacked amid rumours of a power struggle within his Cocan executive. He has been replaced by his assistant Christian Kerengall.
At the start of the same week, the Gabon youth team drew 2-2 with their Chinese counterparts in a match commemorating the inauguration of the newly constructed Agondzje Stadium in Libreville.
President Ondimba was present at the game but many Gabonese stayed home, raising questions about certain aspects of the country's readiness for the event, especially concerns over publicity and low match attendance figures.
Already there's a lot of focus now on the senior national team, to repeat at the Nations Cup, the same feat as the Olympic side.
The organisers had scored high marks by bringing Brazil to Libreville for a friendly but national coach Gernot Rohr is still under pressure despite the respectable 2-0 defeat.
That defeat was followed by another setback against Ghana.
The achievement of the U23 side would go a long way to inspire the country to invest in youth football as Gabon is not among the usual powerhouses at this level of competition.
Also, coach Rohr would be contemplating the inclusion of some of the Olympic heroes in his squad for the Nations Cup to give them the exposure necessary before the Games.
With the Nations Cup just round the corner the year 2012 promises to be a true football festival that Gabonese would not forget for a long time.