Kettering striker Leon McKenzie set for retirement
By Jon Wilkinson
BBC Northampton
Last updated on .From the section Football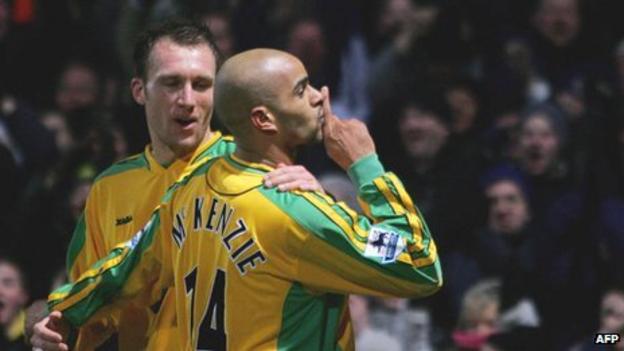 Former Crystal Palace, Peterborough and Norwich City striker Leon McKenzie will end his footballing career this weekend.
With injuries having badly interrupted the last few years of his career, his next step will be to focus on his music career.
"Retiring is not just down to the injuries," McKenzie told BBC Radio Northampton. "But when playing the game and scoring goals is taken away from you, it's a nightmare. So the response to me talking about depression has been overwhelming.
"[After recent events in football] it was something I needed to get out in the open. Other footballers and members of the public have thanked me.
"It's a big weight off my shoulders and hopefully I'm making a difference by speaking out."
McKenzie began his career with local club Crystal Palace, and a loan spell at Peterborough then paved the way for a dazzling 58 goals in 116 games.
It persuaded then-Norwich boss Nigel Worthington to spend £325,000 in December 2005, and a prolific strike-partnership with Dean Ashton was formed.
"Leon epitomised what Norwich was all about," Worthingon said. "He was full of energy, he was a character in the dressing room and got on with everybody. He was a player that I really liked.
"The biggest compliment I can pay him is to mention the 2-0 win over Manchester United and Leon scored a fantastic goal. He deserved that and everyone in that team will go down in Norwich history.
"I knew that he had difficult times off-field, but to his great credit, he did his work as a professional and whenever he needed help, I tried to be there."
Worthington was desperate to hold on to McKenzie, but he moved to Coventry in August 2006, and Charlton in September 2009. Injuries and off-field issues culminated to his lowest point.
The death of his sister, then divorce from his first wife and separation from his children, added to potentially career-ending ankle, thigh and Achilles injuries all contributed and he came close to suicide.
"When I ruptured my Achilles at Coventry, it ripped my heart out and I never got back from that," McKenzie said.
"I tried to speak to someone around the time I was at Charlton, but it didn't work out. I found myself alone too much, my family was away from me, and when you get injured as much as I was, it's mentally draining.
"I wouldn't wish how I felt on anyone. There needs to be more support."
McKenzie recovered, sought professional help and rediscovered his form at Northampton Town, where he finished as their top scorer in 2010-11.
He was released at the end of the season and joined Kettering Town, for whom he has scored three times.
But now that retirement looms, music will play a larger role in his life.
"Music has been a great release for me, and I've not been so single minded on football," he added.
"I'd advise any footballer to do a course or go to college - find other passions. Younger players, especially, have a lot of time on their hands.
"It's important to study, find interests and find yourself as a man."
McKenzie will line up for Kettering against Bath City and the scene is set - in front of family and friends - for one last match-winning performance.
"He's had a fantastic career," said Poppies boss Mark Stimson. "Hopefully, he's got one more hat-trick in him, we can give him the match ball and wish him well with his future career."
McKenzie added: "I love scoring goals. That will never leave me. I'll do my best and I'd love to get a goal in my last game. If it's meant to be, then great."