Striker Calum Elliot next to agree Hearts exit
Last updated on .From the section Football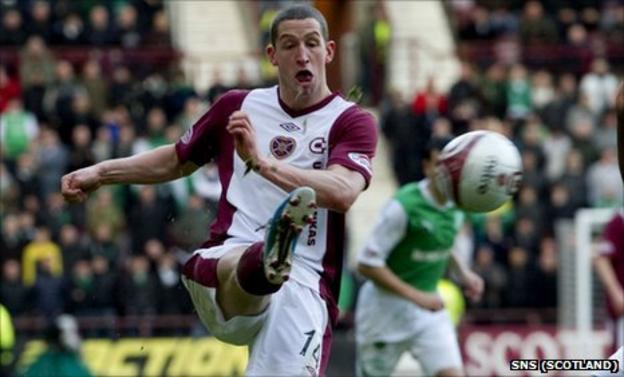 Former Scotland Under-21 striker Calum Elliot will leave Hearts in January - six months before the end of the 24-year-old's contract.
He will follow goalkeeper Janos Balogh, who agreed to leave a month ahead of his contract expiry, in exiting the financially-troubled Edinburgh club.
Injury-plagued Elliot joined First Division Dundee on loan in November.
Elliot told Hearts' website: "I am very keen to have a fresh start now I'm getting back to full fitness."
Hearts owner Vladimir Romanov recently announced he was willing to listen to offers for the Scottish Premier League club.
And, with the Edinburgh outfit looking to decrease their wage bill, players' November salaries are long overdue and December's pay is due on Friday.
More departures are expected - Rudi Skacel's future is uncertain, with the winger's contract due to expire in January - after the exits of Hungarian keeper Balogh, youngster Dale O'Hara and now Elliot.
Hearts announced that the striker "has followed suit in penning a compromise agreement which sees him depart Tynecastle at the turn of the year".
He could now sign permanently for Dundee, although other clubs are thought to be interested.
A Hearts spokesperson said of the player who suffered a serious knee injury last season: "Calum has made a good contribution to the club and we wish him all the best in his future career.
"He is a very good player and will undoubtedly make a positive contribution to his new club and he goes with our best wishes."
Elliot, who has played more than 120 games for Hearts after coming through their youth ranks, added: "I have enjoyed my time at Hearts, but I am keen to regain my form and, now I am back playing regularly, I am sure I can succeed at a high level.
"I would like to thank everyone at the club who have looked after me and been good to me through my eight seasons."