Sir Chris Hoy caught up in Chris Foy controversy on Twitter
Last updated on .From the section Football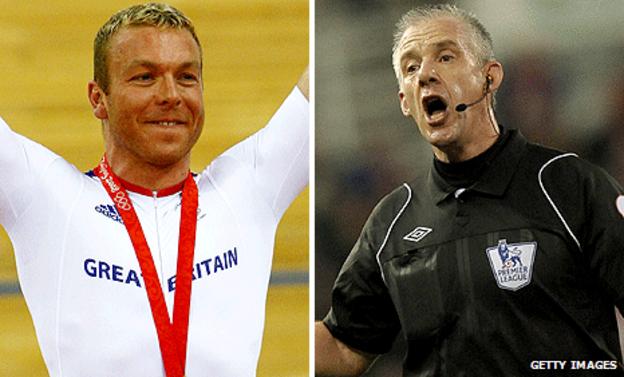 British cyclist Sir Chris Hoy has been accidentally targeted on Twitter by Tottenham fans angry with referee Chris Foy following Sunday's defeat at Stoke.
Foy made several contentious decisions and a number of Spurs fans have mistakenly written to Olympic champion Hoy expressing their displeasure.
"Getting some rather amusing grief from Spurs fans!" Hoy said on Twitter.
"Just for the record 1) I don't need glasses and 2) I do not lead a double life as a ref. That's Chris Foy."
The 35-year-old Scot, who has won four Olympic gold medals, started the hashtag "#FoyNotHoy" and it has since become a trending topic in the UK.
"On the plus side I've learned some new 4 letter words today," wrote Hoy on the social networking website.
"Try typing in 'chris hoy' into the search and scroll down a bit to see the post match reactions! Hilarious!"
Tottenham manager Harry Redknapp criticised Foy after his side's 2-1 loss at the Britannia Stadium.
Spurs felt the 49-year-old Lancashire official missed two handballs, wrongly disallowed an goal and harshly awarded Younes Kaboul a second yellow card.
"Unfortunately a couple of decisions he [Foy] got completely and utterly wrong," said Redknapp. "I thought he had a poor day.
"I never [usually] go and talk to referees after a game, I accept defeat. I never complain about referees' decisions - I have not done it in 30 years of management, never.
"But today, I'm afraid, he got some badly wrong.