Chelsea 'won't give Didier Drogba two-year deal'
Last updated on .From the section Football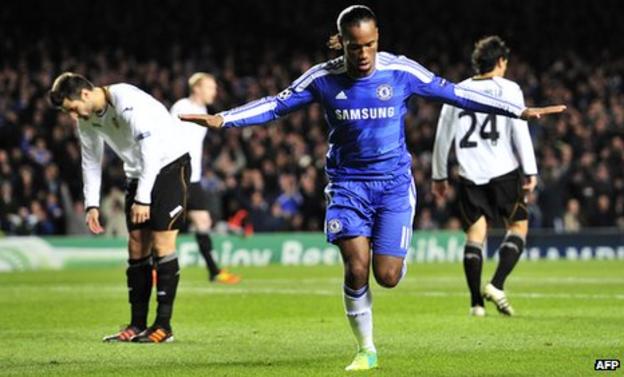 Chelsea manager Andre Villas-Boas has praised Didier Drogba's form, but the club do not plan to offer him the two-year deal he desires.
BBC Sport has learned talks are ongoing because Chelsea are not backing down on their offer of a one-year contract, which is still on the table.
Villas-Boas said: "His level of performances have been outstanding, helping the club and [his] team-mates.
"We have to adapt. It's an ongoing talk with him and his people."
He added: "Of course the club has to agree that the players who perform are the players who should continue. But he is going to the African Cup of Nations and is going to most likely come back only on 12 February. So there are lot of things to decide.
"But his professionalism and integrity will never be in question, signing a contract or not signing."
Drogba has claimed that he could play at the highest level for another two years, having performed a key role - scoring twice - in the club's crucial 3-0 win over Valencia, which secured their progress beyond the Champions League group stage.
The Ivory Coast striker's contract expires at the end of the season so there is less than a month to end the stalemate between the parties before Drogba is free to sign a pre-contract agreement with a rival club in the January transfer window.
The 33-year-old has been at Chelsea since the summer of 2004 after being signed by former manager Jose Mourinho in a £24m deal from Marseille.
Following the signing of Fernando Torres in January, he has found it difficult to secure a regular spot as Villas-Boas has rotated his four strikers, including Daniel Sturridge and Nicolas Anelka.
Anelka is in contract talks with Chinese club Shanghai Shenhua and - along with Alex - has not been training with the first-team squad after the players handed in transfer requests.
Villas-Boas claims the door has not shut on either player though, adding: "They are not training with us for the moment. But it doesn't mean it can't change.
"The transfer requests have been accepted so they will be linked to everybody in the world. For sure, it will continue until the transfer window opens."