Newcastle's Steven Taylor on coping with a long-term injury

By Steven Taylor
Newcastle United defender
Last updated on .From the section Football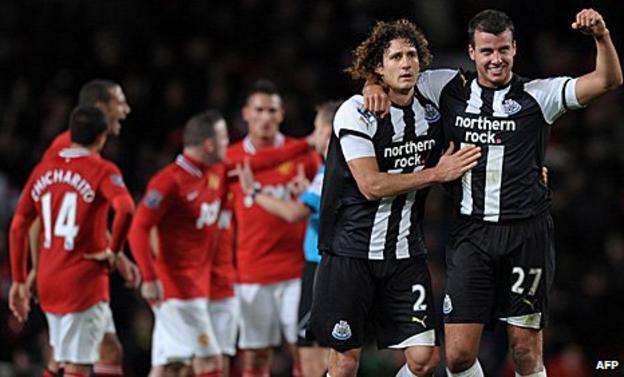 Hi. I'm Steven Taylor. I ruptured my Achilles tendon playing for Newcastle United against Chelsea in December and I now face months of rehabilitation to try to regain my fitness. My aim here is to give an insight into the recovery and the healing process - as well as the boredom that professional sports people sometimes go through when they face long-term injuries.
THE INJURY
When it happened I didn't realise that I was injured. I immediately thought I had been kicked hard in the back of the leg. I felt a sharp pain and I turned around expecting to see the blue shirt of a Chelsea player. But there was no-one there.
I couldn't understand it. I thought it was my calf muscle and I bent down to feel it.
Then I noticed that my foot wasn't right. It was floppy but there was no pain. I tried to walk but my foot just wouldn't work.
I checked my boot to see if any of the studs had come out but they were all there. All the time my foot was flopping inside my boot, independent from my ankle and out of my control.
That's when I knew something wasn't right - I just didn't know how bad it was.
I hobbled off to the dressing room and Newcastle's physio, Derek Wright, took a look at me. I asked him what was wrong.
When he said, "It's not too good Steven", my heart sank. I've known Derek for years and he doesn't sugar-coat bad news. He told me I needed surgery as I had likely ruptured my Achilles tendon.
I knew from other players who had suffered similar injuries that it spelt the end of my season. I was pleased Derek was so honest but the news devastated me. I've been playing well and Newcastle have had some fantastic results. The news that I had played my last part in the team's success this season came crashing down on me.
The rest of the team trooped back into the changing room and all the lads came over to see me. They meant well but seeing my team-mates just made me feel worse. I wanted to be among them and not lying on a treatment table getting their sympathy. Those moments in that changing room have to be the lowest I've ever felt in my career.
Derek and Dave Henderson, one of Newcastle's other physios, strapped my leg up and put me on crutches. My dad drove me back to his house and Newcastle got on with the job of arranging my surgery.
THE OPERATION
I couldn't sleep on Saturday night. Apart from being in physical discomfort, the prospect of being out injured and missing the rest of the season continued to haunt me.
A car came to collect me on Sunday night and I was driven down to London. My surgery was scheduled for seven in the morning on Monday at the Lister Hospital in, ironically, Chelsea.
I was restless on Sunday knowing that the surgeon's knife awaited me. When Monday finally arrived, my surgery was delayed. I hate waiting and, as the hours passed, I just grew more and more nervous.
Finally at noon I was told the surgeon was ready. As I waited for the anaesthetic to be given to me, the door to the operating theatre swung open.
All I could see was the foot of the patient who was being operated on before me - a foot lying motionless on the operating table.
"That's going to be me in a few minutes," I said to myself and the nerves kicked in once again. I tried to stay positive but it's difficult when you're waiting for an operation that you hope will enable you to play the sport you love again.
The anaesthetic finally wore off at around two in the afternoon and I woke up to find Dave Henderson in front of me. He told me the good news that the operation had gone as well as could be expected. I stayed overnight and was taken back to the North East on Tuesday.
THE AFTERMATH
Now I'm on the sofa at my mum and dad's house, leg elevated and with daytime television to keep me company. I am watching lots of football and DVDs - and I have had my manager, Alan Pardew, and all of my team-mates on the phone asking how I'm doing.
I have to inject myself in the stomach each morning with penicillin and take tablets to stop potential blood clots. Having to do this just brings home how serious this is. As I hold the needle in my hand it all feels very surreal. I should be on the training pitch getting ready to face Norwich City this weekend and instead I am having to make sure my injury doesn't get worse.
But this is what I have to do to get fit again.
But I keep thinking of that game against Norwich. It kills me a little bit to think that, instead of running out at Carrow Road on Saturday wearing the black and white shirt, I'll be on my parents' sofa listening to the action on the radio.
Players like David Beckham and Yakubu at Blackburn have had Achilles tendon injuries. I draw inspiration from the fact that they're back and playing at the top level again.
So I know this is what I have to do and there's no easy route to take. The fight starts here.